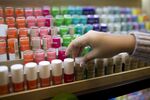 As South Korea suffers from a prolonged drop in exports, one industry is posting double-digit growth in shipments and grabbing the attention of policy makers searching for a new growth engine -- cosmetics.
 Overseas sales for the cosmetics industry rose 73 percent this year through July, compared with a 4.9 percent decline for all industries. Beauty products outperformed Korea's so-called 13 flagship items like cars, chemicals  and steel, most of which have seen their sales drop.

While the value of cosmetics exports is relatively small at $1.4 billion, at 0.4 percent of total outbound shipments, it is one of the seven "promising industries'' that can post over $10 billion worth of overseas sales in five to 10 years, according to a report this month by the Export-Import Bank of Korea.
One theory for the cosmetics boom is the popularity of K-pop stars and their use of beauty products, the bank says.

Most of the shipments are headed to Asian countries like China and Taiwan. The global cosmetics market will continue to grow as per capita spending increases and as the consumer base expands to men and the elderly, according to Kexim.
"Despite the Korean beauty sector's high growth in recent years, there is room for more as its market share in China is still small and Chinese local competitors are yet to catch up," said Son Hyo Ju, a retail analyst at HI Investment & Securities Co. in Seoul. "The macro economic situation in China might not be good, but the cosmetics industry will continue to grow there.''
To be sure, Korea's cosmetics exports volume is still small compared with global giants like France and the U.S., but its growth pace is fast.

With overseas shipments to China accounting for a quarter of Korea's total exports, increasing sales to its larger neighbor will be key to escaping the exports slump. President Park Geun Hye in July called for more efforts to boost sales of consumption goods like cosmetics and clothing to China.   
"Korea's exports to China are mostly intermediary goods, but we need to change strategy as China is increasingly self-supplying these,'' said Yoon Kap Seok, a Sejong-based director general for the trade ministry. "This is why we need to boost consumer products exports. Cosmetics are especially doing well.''