Colbert Versus the Jimmys
Fallon and Kimmel transformed the talk show into a series of viral videos. Can Colbert take it back to the future?
By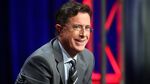 When Stephen Colbert takes over as host of the Late Show on CBS, he will be facing a challenge he never faced as host of the Colbert Report, and it's not living without the right-wing blowhard character he created for that show. It is the Jimmys.