Photographer: Qilai Shen/Bloomberg
Charting the Markets: China Rebounds as Trade Data Disappoints
The Nikkei 225 and Bloomberg Dollar Spot Index fall while European stocks rebound.
By
China is hogging the headlines once again, with trade data the latest evidence that the world's second-largest economy is slowing. Imports and exports dropped in August, highlighting tepid demand at home and abroad. Chinese stocks dropped as much as 2.2 percent, before rebounding in the last two hours of trading, suggesting state-backed support after four days of declines. The Shanghai Composite Index closed the session 2.9 percent higher. Asian stocks swung between a gain of 0.35 percent and a loss of 0.60 percent. The MSCI Asia Pacific Index slid to its lowest since November 2012 and is on track for an eighth weekly drop, the longest losing run in 23 years. U.S. equity futures are indicating a higher open after markets were closed on Monday for the Labor Day holiday.

China export data cast a shadow over the Japanese stock market with the Nikkei 225 Index closing 2.4 percent lower. The loss wiped away all its gains for the year and overshadowed Japanese gross domestic product data, which showed the economy contracted less than initially estimated last quarter. The Nikkei has sunk 16% since reaching a nineteen-year high in June.

The China trade report throws up more questions than answers. Investors are pondering if it makes a U.S. interest rate increase less likely next week. Futures traders have cut the odds the Federal Reserve will raise the cost of borrowing on September 17th to 28 percent from 38 percent at the end of last month. There's a 44 percent chance the Fed will hike in October and a 59 percent probability it'll move in December. The Bloomberg Dollar Spot Index, which measures the greenback against ten leading global currencies, fell for the first day since September 1st. Since global stocks sank the most in four years on August 24th, the gauge has risen 2 percent.

European stocks shrugged off the weak Chinese trade data and focused instead on the late session rebound in the Shanghai Composite Index. The Stoxx Europe 600 Index gained for a fourth day in five, rising as much as 1.6 percent at the open. It's been four weeks since China devalued the yuan. Since then equities in Europe have plunged 10 percent, losing 1.2 trillion euros of value.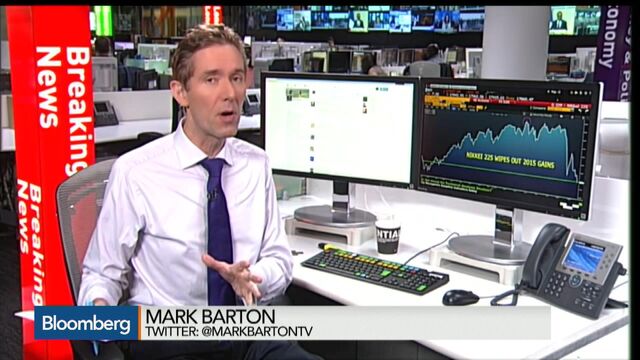 Mark Barton is a presenter on Bloomberg TV. Follow him on Twitter @markbartontv