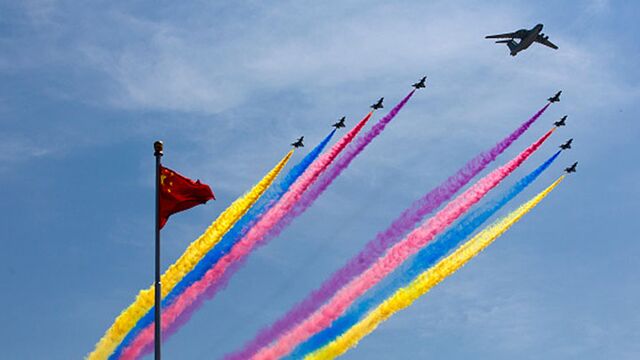 So it's official -- China's stocks bubble has popped.
What about the debt bubble? Is that next?
Well to answer that question, the best place to start is with the oft-overlooked other side of the ledger: assets. On that score, China's balance sheet looks a lot rosier, suggesting prospects for ``financial Armageddon'' may be overblown, according to Bloomberg Intelligence economists Tom Orlik and Fielding Chen.
As of 2013, total assets were about 900% of gross domestic product, versus debt of about 220 percent.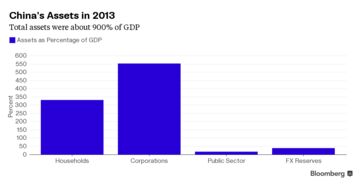 Assets have climbed since 2008 -- the last time census data helped flesh out the picture.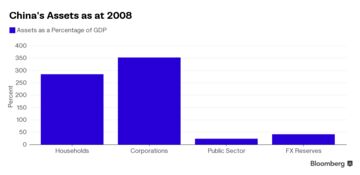 The data reflects China's status as a nation of savers, at both the household and national level, and the rapid appreciation of asset prices over the last decade.
Interestingly, real estate and bank deposits are the biggest household assets, accounting for 70 percent and 24 percent respectively in 2013, the analysis found. For readers unsettled by the plunge in China's equities, take heart from this: stocks accounted for only 2 percent of total household assets.
Still, strong assets don't mean China is immune to a crisis, Orlik and Chen note. It's likely that prices are inflated, and when confidence evaporates, everything from houses to stocks and land can be hard to sell. Meantime, balance sheets are fragile in sections of the corporate sector, such as mining and steel, they wrote.
But the strong position does reduce the chances of a debt crisis in China, the analysts wrote. Case in point: with household debt about 17 percent of real estate assets, house prices would have to fall by 80 percent to push households underwater.
Before it's here, it's on the Bloomberg Terminal.
LEARN MORE