A Sinking Christie Throws Tax Line to Boaters to Buoy Popularity
Elise Young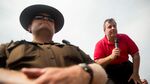 Buy a $1 million yacht in New Jersey, and the state will hand you a $70,000 tax bill. Governor Chris Christie, though, wants to cut you a deal.
Last month, his popularity as a Republican presidential candidate far down, Christie pitched a measure that would give half off the state's 7 percent sales tax on boats. While he emphasized middle-class savings -- think weekend anglers aboard aluminum skiffs -- buyers of super-yachts would make out even better. Whatever the craft's cost, no new owner would owe New Jersey more than $20,000.
The proposal, expected to get state Senate approval this month, is backed by boating groups still struggling to recover from Hurricane Sandy, which devastated New Jersey's 130-mile (209-kilometer) Atlantic coastline in 2012. Already, the measure is drawing criticism as a favor to the rich, reminiscent of Christie's five vetoes of a Democrat-backed millionaires' tax.
"Cutting the sales tax on relative luxuries like boats won't put that many more boats in New Jersey's waters," said Jon Whiten, deputy director of New Jersey Policy Perspective, which researches issues affecting the poor and middle class. "It'll just put more money in boat buyers' pockets."
A bill approved in June by the Democrat-led legislature would have capped the tax at $20,000, favoring owners of boats that cost about $286,000 or more. Christie, facing record-low approval at home as he campaigns out of state, conditionally vetoed the measure Aug. 10. He said he would sign it if lawmakers cut the tax on all vessels to 3.5 percent, so it includes "middle-class citizens, who purchase smaller boats."
Senator Jeff Van Drew, a co-sponsor from Cape May Court House, is amenable to Christie's change, and the matter is expected for a vote Sept. 24, according to Trish Graber, a spokeswoman for Senate Democrats. Assembly Speaker Vincent Prieto, a Democrat from Secaucus, will monitor action in the upper house, said Tom Hester, a spokesman.
Christie, 53, rejected the initial boat-tax bill weeks after blocking another try at a surcharge on New Jersey's highest earners, and four days after a Republican candidate debate at which he made little impression on voters.
"Lowering taxes on New Jersey residents and supporting the continued economic growth of our shore communities following the impact of Superstorm Sandy are laudable goals," the governor wrote in his veto message. "However, I do not believe this bill goes far enough."
From 2000 to 2014, as New York, Maryland and Florida enacted tax caps and other incentives to bolster boating revenue, the number of New Jersey registered vessels dropped 38 percent, to 154,200, according to the National Marine Manufacturers Association in Washington.
"Other jurisdictions who have implemented this type of cap have seen windfalls," Kevin Roberts, a Christie spokesman, said by e-mail.
New Jersey collects about $10.5 million annually from boat sales, according to the nonpartisan Office of Legislative Services. A $20,000 sales-tax cap would reduce the stream by as much as $2 million. Senate Democrats are awaiting figures on the fiscal impact of Christie's 3.5 percent proposal, Graber said.
The industry provides 12,000 jobs and puts $2.2 billion into New Jersey's economy annually, according to the manufacturers group.
"This bill is not about tax breaks," Melissa Danko, executive director of the Marine Trades Association of New Jersey, said by e-mail. "It is about supporting an industry that has faced significant losses in the last decade from the economic downturn and devastating impacts of Hurricane Sandy."
Kevin McGettigan, a broker for Sandy Hook Yacht Sales in New Jersey, was a board member of the Yacht Brokers Association of America when Florida enacted an $18,000 sales-tax limit in 2010. He said the legislation spurred a turnaround.
The state gained $13.5 million of revenue during the first year, compared with a projection for a $1.5 million loss, according to a 2012 study for the Florida Yacht Brokers Association and Marine Industries Association of South Florida.
"By keeping boats in the state you far expanded the tax base," said McGettigan. "We had a whole industry of lawyers and tax accountants closing boat deals offshore, moving boats around to avoid state sales taxes. The marinas are now full and real-estate values have gone up."
New Yorkers scored their own $18,975 cap starting June 1. McGettigan said New Jersey would be foolish not to follow.
"The boat-show season is coming up -- we have the Newport show in a couple of weeks, followed by Norwalk, Atlantic City, Fort Lauderdale," he said. "For customers buying six-figure or seven-figure boats, it is a hot time."