business
Two Koreas to Hold Talks on Family Reunions
By
Meeting follows up on agreement that defused military standoff

Park and Kim want to de-escalate to deal with domestic issues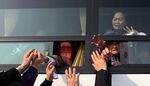 Representatives from North Korea and South Korea began talks on holding the first reunions of families separated by their civil war in more than 18 months as their leaders seek to lower border tensions.
Red Cross officials from the countries met at the border village of Panmunjom to discuss arrangements, following marathon talks last month that allowed North Korean leader Kim Jong Un and South Korean President Park Geun Hye to end a military standoff. Discussions on the reunions started around 10:50 a.m. South Korean time, according to the Unification Ministry.
Monday's meeting signals a further deescalation of the worst military standoff since early 2013, which came after South Korea said the two sides exchanged fire over one of the world's most heavily fortified borders. The agreement last month set out ways to improve ties, including reunions of families separated during the Korean War -- a conflict that ended more than 60 years ago in a truce rather than a peace treaty.
"Both Koreas will need to assure one another of the sincerity of their intention to improve relations," said Hong Soon Jick, a senior fellow at the Hyundai Research Institute in Seoul. "For now, they've clearly moved out of a crisis phase.
Millions of Koreans were separated from their families during the 1950-53 war. About 22,000 have been reunited temporarily through visits since 1985 and 66,000 South Koreans are still waiting, according to the Unification Ministry in Seoul. The two governments ban their people from communicating or meeting with one another without specific consent.
Having ratcheted down tensions with North Korea, Park said last week her government should now focus on revitalizing an economy, which grew in the second quarter at the slowest pace in two years. Her approval rating rose to the highest in a year and a half, which could help boost her reform efforts at the mid-point of her single, five-year term.
North Korea has in the past used reunions to push for a revival of South Korean tours to Mount Geumgang, where the family gatherings were last held. The resort once generated hundreds of millions of dollars for North Korea before visits from South Korea were suspended over the death of a tourist shot by a North Korean guard in 2008.
Shares of Hyundai Merchant Marine Co., the biggest stakeholder in Hyundai Asan which operated tours to Geumgang, rose as much as 6.1 percent in Seoul trading.
War Footing
In Pyongyang, Kim is concentrating on preparations for the 70th anniversary of the founding of the Workers' Party, seeking to turn the Oct. 10 commemorations into a highlight of his almost four years in power.
He put his troops on a war footing last month after a land mine attack in the demilitarized zone prompted South Korea to resume propaganda across the border for the first time in more than a decade. That led to the shots across the border, prompting the three days of marathon talks. As the standoff eased, Kim praised the agreement with South Korea as a "turning point" for ties.
Kim remains diplomatically isolated after conducting North Korea's third nuclear test in 2013. Relations with China, typically North Korea's most powerful ally, have become strained under Kim. 
Chinese President Xi Jinping didn't meet with Kim's visiting envoy, Choe Ryong Hae, during China's celebration last week of the 70th anniversary of victory against Japan in World War II, according to Chinese news portals, including Shanghai-based Guancha.com and Beijing-based China.com.cn. Xi met with more than 40 dignitaries during the commemoration, they said.
Kim is trying to make good on a promise to raise living standards, made several months after taking power in late 2011. His reforms appear to have helped "a portion" of North Koreans while the food security situation in the country remains tenuous, the Congressional Research Service said in a July report.
— With assistance by Ting Shi
(Updates with start of talks in first paragraph.)
Before it's here, it's on the Bloomberg Terminal.
LEARN MORE