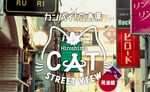 Sure, aerial photography offers a useful perspective of a place: You can see the seams where tracts of land abut, get a sense of a region's topography, or survey diverse architectural landmarks. But there's one big problem: There aren't enough cats.
Japan—the country that has appointed multiple feline stationmasters along its railways—is home to a new mapping tool that showcases sights around the city of Onomichi from a kitten's vantage point. (It's like Google Street View, but, you know, lower to the ground.)

Thank the Hiroshima prefecture's tourism board for the interactive map, which positions kitty tour guides along three routes, including a shopping arcade. The port city is home to many feline residents, and also the site of a museum dedicated to maneki-neko, the friendly cat figurine with a bobbing paw said to be a lucky talisman.

Click on a cat's embedded profile to learn more, or stop by one of the highlighted shops to snuggle up in person. (More routes will roll out in October, the The Wall Street Journal reported.)
Who needs a bird's-eye view when you could assume the perspective of its natural—and super cute—predator?