Morales Wins Most Votes as Guatemala Election Goes to Runoff
By
Vote comes four days after president Perez Molina resigned

Ex-lawmaker Baldizon, former First Lady fight for runoff spot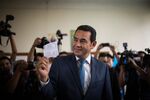 Comedian Jimmy Morales won the most votes in Guatemala's presidential elections on Sunday, with no candidate near the 50 percent threshold required to avoid an October runoff.
With ballots from almost 98 percent of precincts counted, Morales, who railed against "traditional politicians" in a year that saw the country's president, vice president and central bank chief jailed, had 23.9 percent support. Former First Lady Sandra Torres and ex-lawmaker Manuel Baldizon were neck and neck for second place with about 19.6 percent each, according to data posted by the country's electoral tribunal.
"I might not be the most capable person, but what Guatemala needs today is to get back to believing in itself," Morales said Sunday. "We are going to fight corruption emphatically."
Morales has called for greater transparency in government after a bribery scandal forced President Otto Perez Molina to resign on Sept. 2. Vice President Alejandro Maldonado took over as the head of Central America's biggest economy with the goal of finishing out a term scheduled to end in January.
Election judge Julio Solorzano said Monday that all precincts will review votes this week to determine which candidate will compete with Morales in a runoff on Oct. 25. He didn't give a date for a final tally. For now, Torres is 1,400 votes ahead of Manuel Baldizon.


Record Numbers
Sunday's election featured 14 candidates vying for support from about 7.5 million eligible voters, of which 70 percent cast ballots. While the speed at which the elections were organized left some people confused, Rudy Marlon Pineda, the head of the elections authority, said voters turned out in record numbers.
"We barely know who we are voting for and what the candidates propose," said 24-year-old law student Isabel Blanco, while casting her ballot in Guatemala City. "The lack of information is the biggest problem."
In a country known abroad for its Mayan temples, textiles and rum, the corruption case came to dominate the election debate.
"For the first time corruption has surpassed security as the top concern among voters in Guatemala," said Luis Haug, Central America's regional director for Cid Gallup. "People are becoming very critical of the political issues in the country."
Former President Perez Molina, who remained in jail over the weekend, has rejected accusations by the attorney general that he accepted bribes from companies looking to avoid customs taxes. In a court appearance on Friday, he said he never "received a cent" in the alleged scandal.
The political crisis has had little impact on the $59 billion economy, which exports coffee, textiles and gold and also serves as a gateway between Latin America and the U.S. for migrants and drugs. Gross domestic product is expected to expand between 3.6 percent and 4.2 percent this year, interim central bank President Sergio Recinos said last month. The yield on the country's dollar bonds maturing in 2022 fell five basis points, or 0.05 percentage point, last week to 4.98%.
'Edge of Collapse'
"I would not be panicking and selling at these levels," said Franco Uccelli, an emerging markets analyst at JPMorgan Chase & Co. in Miami. Guatemala's "long-standing tradition of fiscal discipline characterized by relatively low fiscal deficits and a relatively low debt burden is not likely to be altered."
Baldizon, 45, pledged to limit spending if elected and said he will continue plans to build a gas pipeline connecting Mexico and Guatemala. The 46-year-old Morales, who previously ran and lost a race for a mayoral post, said Sept. 1 that the country needs wholly new leadership.
"Guatemala, remember that these traditional politicians have taken us to the edge of collapse," he said.