Gulf Nations Expand Yemen War After Worst Troop Loss
Nafeesa Syeed, Mohammed Hatem and Mohammed Aly Sergie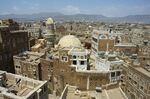 Gulf Arab nations are expanding the ground war in Yemen, pouring more troops into the country to defeat Houthi rebels they say are backed by regional rival Iran.
About 1,000 troops from Qatar entered Yemen on Sunday from the Wadia post on the border with Saudi Arabia, the Qatari-owned Al Jazeera television reported. The soldiers, backed by armored vehicles and missile launchers, were on their way to Yemen's oil-rich central Marib province, it said. Qatar's foreign ministry didn't immediately respond to calls seeking comment.
The deployment comes after 45 troops from the United Arab Emirates and 10 Saudi soldiers were killed in Marib on Friday, the worst setback to date for the Saudi-led coalition since it began its offensive in March. Mounting losses will test the will of the Gulf states to extend their involvement after helping the internationally recognized government of President Abdurabuh Mansur Hadi retake parts of southern Yemen.
Expanding the ground war carries a "huge risk of heavy casualties" for the Gulf Arab monarchies, said Ibrahim Fraihat, senior foreign policy fellow at the Brookings Doha Center. "Yemen has historically proved to be a very tough spot for foreign armies to fight and win."
Bahrain, another member of the coalition, said five of its soldiers were also killed on Friday defending Saudi Arabia's southern border. The broader ground offensive follows five months of coalition airstrikes as it seeks to restore Hadi to power. The Houthis seized the capital, Sana'a, in September, and his government fled to Saudi Arabia earlier this year.
Capital Advance
Coalition officials have said they aim to move north to retake Sana'a from the Houthis, who are backed by former Yemeni President Ali Abdullah Saleh. To move on the capital, they need to recapture Marib first, Fraihat said.
Airstrikes continued in Sana'a Monday, hitting a military aviation college, witnesses said. In Marib, resident Abdullah Hasan said by phone there were clashes between pro-government forces and the rebels and their allies. Fighting and shelling also ensued in the southern city of Taiz.
Western diplomats and analysts have expressed skepticism about the level of Iranian involvement in Yemen's conflict, the primary motivation for the Gulf states' involvement. The Houthis, meanwhile, say they've suffered discrimination from successive Yemeni governments.
Gulf Arab troops may face a long deployment, as it could take years to stabilize and reconstruct Yemen, according to Michael Stephens, head of the Royal United Services Institute for Security and Defence Studies in Qatar.
"It's very easy to go into a country but very difficult to get out," Stephens said by phone, citing the experience of the U.S. in Iraq and Afghanistan. "If you invade, get rid of the Houthis and then leave, that doesn't solve anything."