Italy in Final Talks With EU on Bad Bank Plan, Padoan Says
By and
Measures approved by Italy to accelerate reduction of NPLs

Padoan sees opportunities for M&A, welcomes foreign players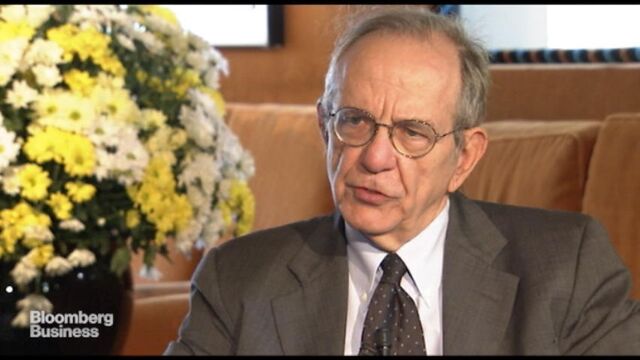 Italian Finance Minister Pier Carlo Padoan said the government is in final talks with the European Commission to create a bad bank to buy problematic loans from lenders, a measure to free up lending as the country emerges from a record-long recession.
"We are in a completely technical discussion to identify instruments that allow some indirect state guarantee to operate," in compliance with state aid rules, Padoan said in an interview at the Ambrosetti Forum in Cernobbio, Italy, on Sunday. "We are having final talks with the Commission these very days, so we hope to solve the technical issues very soon."
Italy is seeking to accelerate banks' disposals of bad loans, which reached a record high of 195.8 billion euros ($218.2 billion) in June, as low interest rates maintain pressure on profit. Italy's government has also passed rules to shorten the time it takes banks to seize assets and to deduct loan losses from their tax bill as it seeks to bolster lending growth.
"The creation of a bad bank would free-up resources and capital, so this is a positive news for markets," said Francesco Confuorti, chief investment officer at Advantage Financial SA, a Milan-based investment firm. "Smaller banks will be the main beneficiaries because of the higher weight of bad loans on their balance sheets and the stricter requirements of regulators."
Italian firms were among the best performers among banks tracked by the STOXX Europe 600 Banks Index on Monday, with Banca Monte dei Paschi di Siena SpA gaining 1.9 percent to 1.83 euros as of 10:25 a.m. in Milan trading, and Banca Popolare di Milano Scarl up 1.6 percent to 93.6 cents.
Bank M&A
Measures approved by the government to accelerate the reduction of outstanding debt and non-performing loans are "already beginning to show signs," said Padoan, adding that "a market for bad loans is starting even if there is no formal bad bank."
A law forcing the 10 biggest cooperative banks to convert to joint-stock companies will accelerate mergers and may attract foreign investors, according to Padoan.
The law approved in March means an end to restrictions on ownership and voting rights which have allowed cooperative bank shareholders, who consist mainly of employees and local business clients, to block unwanted changes. The reform was introduced because the Italian banking system needs to undergo a "healthy restructuring in terms of having larger banks and eventually fewer banks," said Padoan.
"Italian banks can become stronger both by raising more capital individually and by merging among themselves," he said. "We are very open to foreign participation. We are already seeing foreign money going into financial markets."