Warplanes Pound Yemen Rebels After Gulf Troops Killed
Mohammed Hatem and Ahmed Feteha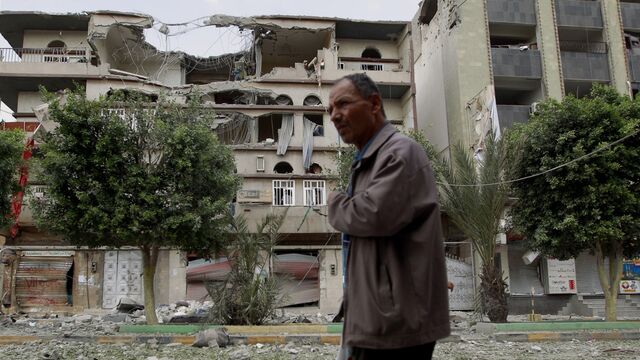 The Saudi-led military coalition bombed Yemen's Houthi rebels' positions across the country hours after pledging that Friday's killing of more than 50 Gulf Arab soldiers won't undermine efforts to crush the Shiite group.
Warplanes kept pounding Sana'a on Sunday after targeting the al-Dailami airbase and other Houthi military sites in the capital a day earlier, witnesses said. Aircraft also bombed the northern Houthi stronghold of Saada and the southern city of Taiz, where there was also shelling by the rebels, witnesses said.
The attacks follow the coalition's worst setback since its military campaign against the Houthis started in March. Forty-five troops from the United Arab Emirates and 10 Saudi soldiers were killed in a missile attack in the oil-rich Marib province in central Yemen.
Mounting casualties will test the will of Saudi and U.A.E. rulers to extend their campaign after helping the internationally recognized government retake parts of southern Yemen. The two Sunni-ruled nations say the war is a proxy conflict with Iran, which they accuse of backing the rebels, known as Houthis. Western diplomats have expressed skepticism about the level of Iranian involvement.
"It is hard to say what this kind of loss will mean for the U.A.E. in particular," Gregory Gause, a professor of international affairs at Texas A&M University, said by e-mail. "I doubt that one incident will change the policy, but if we see more of this, it could have an impact."
Mourning Period
The Gulf nation declared three days of mourning. Sheikh Mohammed bin Zayed Al Nahyan, crown prince of Abu Dhabi and deputy commander of the U.A.E.'s army, said on Twitter that defeating "the rebellious and aggressive militias who caused all destruction and corruption in Yemen is a goal we shall continue to uphold."
The Saudi-led coalition in March started bombing Yemen, which lies adjacent to some of the world's busiest oil shipping routes, in an attempt to restore President Abdurabuh Mansur Hadi to power after the Houthis captured the capital, Sana'a, prompting him to flee.
The intervention has escalated the conflict in Yemen, drawing criticism from human rights groups who say it is exacerbating a humanitarian crisis there.
The U.A.E. has also sent ground troops to support the coalition's campaign. Bahrain, another member of the coalition, said five of its troops were killed while taking part in defending Saudi Arabia's southern border, the country's state-run news agency reported Friday. It wasn't clear if they were killed in the same attack in Marib.
Before it's here, it's on the Bloomberg Terminal.
LEARN MORE