Wall Street's Favorite Guessing Game: When Will the Fed Make Its Move?
Want some clarity? Check this chart.
By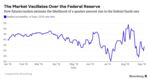 Will she or won't she?
Will Federal Reserve Chair Janet Yellen and her colleagues on the Federal Open Market Committee raise the federal funds rate at their Sept. 16-17 meeting, or not? After Friday's reasonably strong jobs report, the market's assessment of a rate hike went up just a little bit, to 34 percent at midmorning from 30 percent yesterday. That's the probability implied by prices of federal funds futures contracts, according to data compiled by Bloomberg.
But before you put too much stock in that probability, look at the vast swings we've seen recently.
In early July, the headlines were all about the crisis in Greece and a plunge in Chinese stocks. "Fed Rate Increase Ruled Out for 2015 by Traders on Greece, China," read a headline on the Bloomberg terminal. In the futures market, the implied probability of a September rate hike fell to 21 percent.
By Aug. 7 the pessimism about the economy had evaporated, and the implied probability of a September rate increase reached 54 percent. The talk around that time was about the highest level of auto assembly since 1978 and "the most optimistic views on wages in 15 years," according to a Bloomberg report on the University of Michigan's consumer sentiment index. 
That mood didn't last long, either. By Aug. 26 the markets were fretting about a slowdown in China and a steep decline in the Chinese stock market, which briefly knocked almost 1,100 points off the Dow Jones industrial average. The implied probability got down to 26 percent.
Now it's back up again, as U.S. economic statistics come to the fore.
The only thing we know for sure is that by the afternoon of Sept. 17, the probability of a rate hike that day will be 100 percent. Or zero.