The Never-Ending Testimony of Clinton Staffers Rolls On
Cheryl Mills is the latest staff member for the former secretary of state to be called to testify. She won't be the last.
By and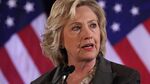 Cheryl Mills knows all about the legal entanglements that have come from being a Clinton, or working for one in the past 30 years.
She's just not used to being the one who's getting entangled.
But there she was on Thursday, testifying behind closed doors before the U.S House Select Committee on Benghazi. The committee is seeking information from Democratic presidential candidate Hillary Clinton and her closest confidants about their email habits while Clinton was secretary of state. Mills was Clinton's chief of staff at the State Department.
And just like in inquiries past—whether Whitewater, or Monica Lewinsky, or Travelgate—this is how it starts, and it doesn't end quickly. Staffers, from the most senior to the most junior, can get hauled in, racking up embarrassing headlines and mounting legal bills until it's over.

Next up: Jake Sullivan, Clinton's foreign policy adviser. And the panel also intends to soon call long-time aide and confidant Huma Abedin, Clinton's deputy chief of staff at State; National Security Advisor Susan Rice; and Patrick Kennedy, the current undersecretary for management, among others. Clinton herself is set to testify to the committee in October.
Against this stream of high-profile Clinton-connected names, at least one lesser-known former State Department employee has been subpoenaed by the committee to testify, but he is refusing to oblige.
Bryan Pagliano, who reportedly helped to work on Clinton's private e-mail and server when she was secretary at State, on Monday told the committee through his lawyer that he was invoking his Fifth Amendment right not to testify.
His lawyers told the committee he did not want to become ensnared by his testimony in "the current political environment," said the top committee Democrat, Elijah Cummings of Maryland.
Pagliano certainly isn't the first person connected to Clinton to lawyer up, and the distinction can prove costly.
When Bill Clinton was president, members of his White House staff found themselves caught up in the multiple investigations that targeted the then-president. At one point in the late 1990s, longtime Clinton confidant Bruce Lindsey reported debts of between $600,000 and $1.25 million to two Washington law firms that represented him in the Whitewater investigation, a sprawling inquiry that began focusing on the president's real estate deals and ended by exposing his sexual infidelities.
As for Mills, a Stanford-educated lawyer, her appearance privately before the panel Thursday represented a new role.
Known for bluntness in advising her famous clients on how to handle tough questions, dating from Clinton impeachment days, this time, she was the one spending all day Thursday, until 5:30 p.m., testifying.
Mills is someone who has remained in Hillary and Bill Clinton's orbit since the early 1990s. By 1993, Mills's service in the the White House counsel's office had "earned the trust of the president and first lady by fiercely protecting their interests and keeping their secrets," as the Washington Post put it at the time. Few outside of the tight-knit world, however, knew who she was.
Yet her presentations during the House impeachment proceedings—part methodical legal argument, part passionate defense of ideals, and part the image of an African-American woman confronting a prosecution of 13 white men—vaulted her onto the public stage and earned praise in the media.
When then-New York Senator Hillary Clinton convened her innermost circle at her Chappaqua, New York, home to see if she should get into the 2004 race for president, Mills was among four aides present, along with Bill Clinton and Chelsea Clinton, according to the book Game Change by Bloomberg Politics managing editors John Heilemann and Mark Halperin.
Mills would later join Clinton's 2008 presidential effort, nominally as general counsel but effectively steering the ship after Clinton fired campaign manager Patti Solis Doyle. In early 2009, she became Clinton's chief of staff at the State Department.
Mills also has a deep history outside the world of politics, serving on the boards of the Clinton Foundation and BlackRock, the world's largest money manager. She also served as general counsel of New York University and is founder and CEO of the BlackIvy Group, a company that invests in growing business in Sub-Saharan Africa.
"She is very capable and competent and smart and she will be very well prepared," predicted Robert Bennett, who represented President Clinton in the Paula Jones matter, prior to Mills' testimony. "Because of her experience, she will not be like a deer in headlights with these folks. I think that she will be a very difficult witness to handle."
The committee, as expected, pressed questions about Clinton's special e-mail and server. One aspect of her testimony Thursday was that none of Clinton's work-related e-mail was intentionally destroyed or hidden, according to a person familiar with the matter.
Congressional Republicans, led by Benghazi committee chairman Trey Gowdy of South Carolina and Speaker John Boehner, have challenged whether Clinton did, in fact, preserve all of her work-related e-mails, and why she might not have done so. This has also led to the mushrooming questions of potential mishandling of classified material.
While Mills' testimony and others' may follow a pattern of Clinton confidants and allies being drawn into entanglements, Clinton and her allies have depicted the continued inquiries as politically motivated.
At the same time, they say they are making every effort to answer questions and even encouraged her past and former aides to do so. Mills was not testifying under subpoena and neither will Sullivan.

Earlier this year, another Clinton ally, Sidney Blumenthal, had initially been slapped with a subpoena prior to his own closed-door testimony in June.
Gowdy and his committee spokesman insist that the stream of high-profile, Clinton-connected witnesses is not a sign of undue or partisan targeting. 
"Why would the Select Committee not talk to former Secretary Clinton's top aides given the role they played in decision-making regarding Benghazi?" asked Jamal Ware, the spokesman for Gowdy and committee Republicans, in a statement. He said the personal connections to Clinton are not playing as much of the role as the ones these people have played as officials at the State Department and Department of Defense or in the Executive Branch.
Ware said that of the more than 40 witnesses interviews conducted by the committee to date, only two witnesses have had direct connection to Clinton. Along with Blumenthal and Mills, Sullivan's appearance on Friday will make three.
After Mills' testimony Thursday, Democrat Cummings called on Republicans to release her testimony to the public. A similar request has been made to release a copy of Blumenthal's June testimony. But Gowdy and Republicans have still not done so. 
Not agreeing to appear, although subpoenaed to do so, is Pagliano. Not so much a member of Clinton's inner circle, he is a former information technology official at the State Department. Cummings said "it is certainly understandable that this witness' attorneys advised him to assert his Fifth Amendment rights, especially given the onslaught of wild and unsubstantiated accusations by Republican presidential candidates, Members of Congress, and others based on false leaks about the investigation."
There is no difference in invoking the Fifth Amendment before Congress or in court, said Samuel Rosenthal, a partner at Squire Patton Boggs in New York, in an interview. He also said the Fifth Amendment presumes someone is innocent so asserting it "does not at all mean someone is guilty."
"It simply means they're exercising their constitutional right to remain silent. It's there to protect the innocent as well as the guilty," said Rosenthal, who leads the firm's government investigations and white-collar practice group and has represented governmental entities as well as the U.S. Senate.
However, the use of the privilege is "not intended to be a blanket assertion" to all questions or blocks of questions, he said. "It's supposed to be used only with respect to questions where there is a risk of incrimination, although courts will generally tend to liberally allow an assertion of the Fifth Amendment," he said.

Andrew Harris contributed from Washington.