The Never-Ending Testimony of Clinton Staffers Rolls On
Cheryl Mills is the latest staff member for the former secretary of state to be called to testify. She won't be the last.
By and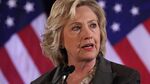 Cheryl Mills knows all about the legal entanglements that have come from being a Clinton, or working for one in the past 30 years.