Hillary Clinton Says She's Sorry E-Mails Have Caused 'Confusion'
But, in her third nationally televised interview, she defends the practice as above board.
By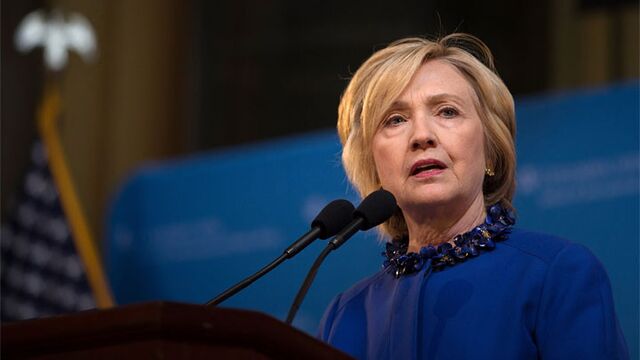 Democratic presidential candidate Hillary Clinton on Friday apologized for confusing people with her personal e-mail use as secretary of state even as she defended the practice's propriety.
"At the end of the day, I am sorry that this has been confusing to people and raised a lot of questions," Clinton told MSNBC's Andrea Mitchell in the most extensive interview she's done on the issue in the six months since her reliance on a private e-mail server was first exposed.
"I certainly wish that I had made a different choice," Clinton said, later adding: "I take responsibility and it wasn't the best choice." Still, she said, the practice was, in her view, "allowed and it was fully above board."
Clinton's comments reflect the more contrite tone she's adopted in the past 10 days, a course correction after she made jokes about the e-mail issue that landed with a thud. She is now more reflective and apologetic, though there's still an air of self-preservation as she insists that more Americans will understand her perspective if they listen to her explanation.
The issue has contributed to declining favorability ratings, something that campaign chairman John Podesta acknowledged Thursday when he told reporters that the campaign had faced "some headwinds, particularly around the e-mail question."
Asked how she responds to being called a liar or untrustworthy, Clinton said, "Certainly, it doesn't make me feel good. But I am very confident that by the time this campaign has run its course, people will know that what I have been saying is accurate."
Clinton and her team have said that one of the best opportunities for her to explain herself will come on Oct. 22, when she is scheduled to publicly testify before the Republican-led House committee investigating the 2012 terrorist attacks in Benghazi, Libya. That appearance, she said, will be "long and grueling."
Clinton said her decision to rely on a private e-mail account was made on the fly as she took office in early 2009. "There was so much work to be done," she said. "We had so many problems around the world. I didn't really stop and think, what kind of e-mail system will there be?" But she insisted the issue doesn't raise questions about her judgment more broadly.
She also said that the account was used responsibly and that she has always been careful in handling classified information. "I take classified material very, very seriously, and we followed all the rules," she said.
Clinton has faced questions about her decision to wipe her private server clean after her lawyers sorted through her messages late last year to give any that could possibly be considered official records back to the State Department. Clinton said the lawyers "went through every single e-mail" and "were overly inclusive" in deciding what to hand over to the department, which is releasing batches of thousands of messages on a monthly basis in accordance with a judge's order. The department "has everything that they could have" and her team was so inclusive that the department will be returning 1,200 e-mails to Clinton that were entirely personal in nature, she said.
The public releases of her messages have shown that information sent to her—and at least a handful of e-mails she sent—contained material that the government later deemed classified.
Republican Rivals
Turning to the rise of billionaire Donald Trump in the Republican presidential race, Clinton said "it's an unfortunate development in American politics that his campaign is all about who he's against."
Trump, who signed a Republican Party loyalty pledge on Thursday vowing not to run as an independent if he loses the party's nomination, is "great at innuendo and conspiracy theories and really defaming people," Clinton said. 
"He's attacked so many people," she said. "I do regret that he's going after so many people, many of them by name."
Those people include Clinton's longtime aide Huma Abedin, the campaign's vice chair, and Abedin's husband, former Representative Anthony Weiner, a New York Democrat who resigned after being caught up in a sexting scandal. Trump last week called Weiner a "perv" and a "sleazebag" and suggested that Abedin had shared classified information with her husband. Weiner called Trump's accusations "outrageous" and the Clinton campaign condemned Trump for targeting a staffer.
Clinton contrasted her cautious public comments with Trump's stream-of-consciousness style, telling Mitchell that after decades near the top of government, she knows how important it is for senior officials to weigh their words and be aware of how they'll be perceived in the United States and around the world. "Loose talk, threats, insults—they have consequences," she said.
It what could be seen as a dig at Trump and other candidates whose campaigns are built around entrenched views, such as Vermont Senator Bernie Sanders, Clinton said her candidacy is focused not just on talking at voters, but on listening to them. "I think you can come with your own ideas and you can wave your arms and give a speech. But are you connecting with and really hearing what people are either saying to you or wishing that you would say to them?"
Asked about another potential rival on the Democratic side, Vice President Joe Biden, Clinton wouldn't say much. Mitchell asked what policy differences they had, and Clinton responded that she was "not going to address any of the political decisions about my friend Joe Biden." The vice president has a "difficult decision" ahead of him as his family copes with the death of Biden's son Beau, and "I wish the best for him and his family," she said.
Does she see the race slipping away from her as the e-mail issue continues to plague her and Sanders, and possibly Biden, gain steam? 
"Well, I don't feel that," Clinton said, sitting across from Mitchell in a big armchair on a set that looked like a living room. "I feel that I have questions to answer, which I intend to do at every turn —with you and others—about the whole e-mail issue and to keep saying the same thing."
—With assistance from Nicholas Johnston in Washington.