benchmark
What the Iran Deal Means for the World Economy
Think about petroleum, planes, and pistachios
By and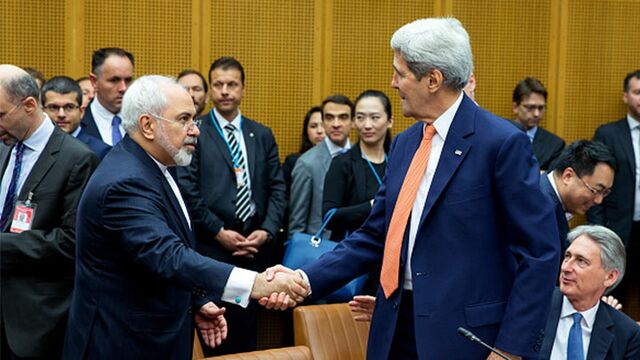 With Obama securing enough Senate votes to support an historic accord, it looks like Iran is closer to emerging from some of the financial restrictions imposed to discourage it from developing nuclear weapons. Here's what the deal means economically. 
1. Iran
Iran is clearly the top winner, with its $388 billion economy likely to reach 6 percent growth as early as 2016, according to Garbis Iradian, chief economist for the Middle East & North Africa at the Institute of International Finance.

2. Oil prices
As home to the world's fourth-largest oil reserves, Iran is likely to increase its production as much as 800,000 barrels a day in 2016. Still, even as it accounts about 1 percent of today's global oil supply, it may not have much of an impact on an already oversupplied market, according to a report this week from A.T. Kearney. The firm is projecting that Brent oil prices in 2016 will most likely stay in the range of $45 to $65 a barrel.
3. The U.S. 
Even after the nuclear deal is implemented, sanctions preventing most U.S. companies from dealing with Iran will remain in place. The agreement won't move the needle on U.S. growth as a whole in 2016, says George Abed, senior counselor and director for Africa & the Middle East at the IIF. It won't affect global growth, either, he says. One significant exception is the aviation industry. The deal calls for the U.S. to grant licenses to allow the sale of commercial passenger aircraft, as Iran needs to invest at least some $20 billion to update its aging planes. 

There are also American companies for which the deal might be a threat, such as California pistachio growers. Iran's pistachio crop was worth more than $1 billion last year, comparable to what U.S. farmers grew, and the deal says the U.S. will allow Iranian pistachio imports into the U.S. 
4. Europe 
For Europe, removing international sanctions against the Islamic Republic may mean regaining its presanctions status as Iran's biggest trading partner and restoring what were once $32 billion of economic links. Trade between Europe and Iran plunged to about $9 billion when sanctions began to be tightened, according to data compiled by Bloomberg News. As European exports of machinery and industrial equipment to Iran tailed off, China stepped in to fill the void. By 2013, China was Iran's biggest partner, with trade amounting to more than $41 billion.
European delegations began courting Iran well before the nuclear deal was reached, as business leaders seek new sources of cheap oil and a new market to invest in. 

If recent history is an indicator, which European country has the most business ties and activity with Iran? Italy ranks as the biggest importer of Iranian goods, while Germany is the top European exporter to Iran, according to Eurostat.
—With Andre Tartar and Flavia Krause-Jackson. 
(For more economic analysis, see Benchmark.)
Before it's here, it's on the Bloomberg Terminal.
LEARN MORE