Photographer: Victor Spinelli
Tanzania Resumes Talks for $800 Million to Support Shilling
by
Tanzania injecting $10 million every month to support shilling

Minister sees inflation rate rising if weak shilling persists
Tanzania will resume discussions for $800 million of loans from international lenders after abandoning an earlier plan as borrowing costs increased during the Greek debt crisis, the nation's finance minister said.
Tanzania has been selling foreign currency -- as much as $10 million a month -- to support the shilling, Saada Mkuya said on Wednesday in the commercial capital, Dar es Salaam. The demand for dollars in East Africa's second biggest-economy has been stronger than the central bank's ability to support the local shilling, which hit a record low against the dollar in June.
"We are holding another round of talks with investors in London next week," Mkuya said. "The delay to secure the loan has caused scarcity of dollars in the market."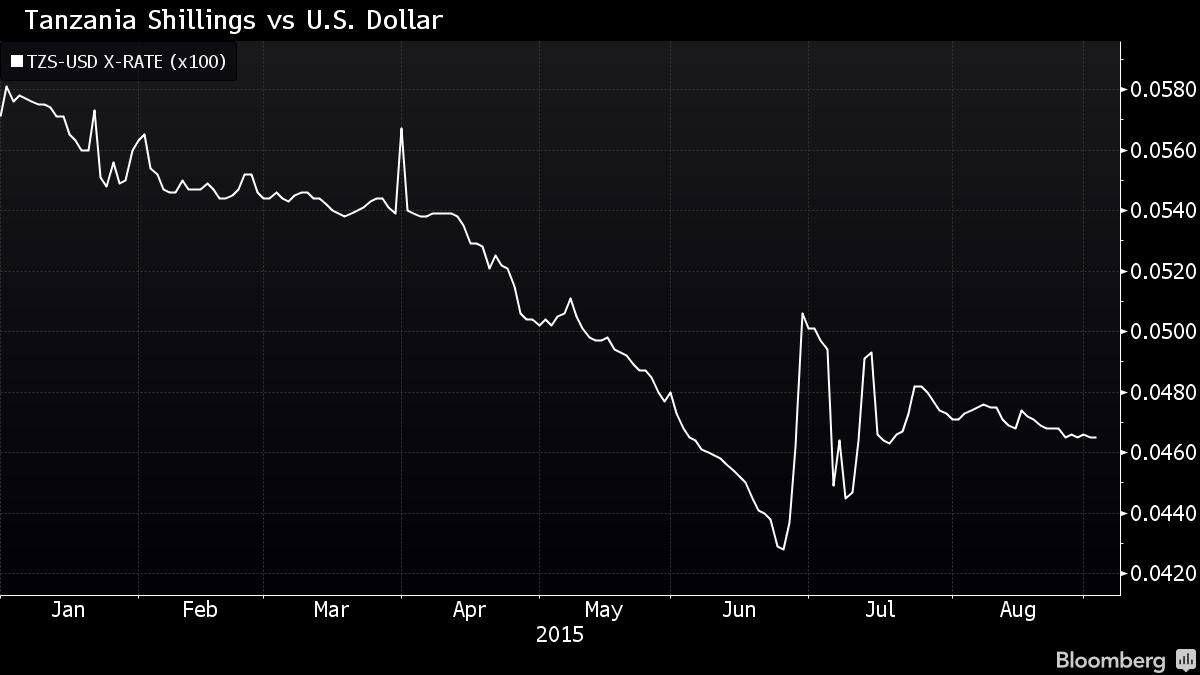 The nation had agreed on $800 million of loans from Rand Merchant Bank and China Development Bank Corp. to underpin its currency and plug the budget shortfall, Joseph Masawe, the Bank of Tanzania's head of economic research and policy, said in June. A month later, the government shelved plans for $600 million in credit from South Africa-based Rand Merchant.
High Rates
Tanzania postponed the plans after other African nations borrowed at "very high rates driven by the Greece situation," Mkuya said. She didn't specify whether next week's talks will be with the two lenders.
The country's net international reserves stood at $4 billion in June, down from $4.2 billion a year earlier, according to central bank data.
The shilling has weakened 19 percent against the dollar this year and is the worst-performer in Africa after Zambia's kwacha, Uganda's shilling and Madagascar's ariary, according to data compiled by Bloomberg. It traded unchanged at 2,150 against the dollar on Thursday.
Inflation may maintain its upward trend if the shilling keeps declining against the dollar, said Mkuya. The inflation rate rose to 6.4 percent in July compared with 4 percent at the start of the year, while the shilling has lost about a fifth of its value since then.
"There is imported inflation," she said. "If we go on like this, in the long run, unfortunately, inflation will increase."
Some investors are nervous about next month's presidential and parliamentary elections, Mkuya said, without elaborating. President Jakaya Kikwete is stepping down after serving for a maximum of a decade.
"While we are lucky to always hold elections peacefully, we are seeing most investors holding back during this time," she said.
Before it's here, it's on the Bloomberg Terminal.
LEARN MORE