Sweden's Happy Currency Warrior Stays Cool as Traders Pounce
By
Krona soars as Riksbank stimulus measures crowded out by ECB

Riksbank governor says he's prepared to deliver more stimulus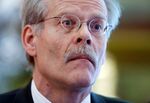 Sweden's central bank Governor Stefan Ingves is a happy currency warrior.
The governor, backed by a unanimous board, on Thursday decided against further stimulus measures, leaving the key rate at minus 0.35 percent and keeping a bond-purchase program at 135 billion kronor ($16 billion). He maintained an outlook for rates to stay unchanged over the next year, while repeating there's a "high level of preparedness" to do more.
The news drove the krona higher, and the currency later strengthened as much as 1.2 percent against the euro after European Central Bank President Mario Draghi underscored his commitment to supporting the euro zone. In a revamped quantitative-easing program, Draghi will allow officials to buy higher proportions of each euro member's debt.
"We will see a stronger krona, which increases the likelihood that the Riksbank will need to act again in October," Carl Hammer, chief currency strategist at SEB AB, said by phone. "It was good that they kept a cool head for now, but the upshot is that the krona will strengthen."
Policy makers in Sweden have struggled to keep up with monetary easing from the ECB and counter its effect on currency markets. The strong krona has undermined Ingves's efforts in recent years to revive inflation and meet the Riksbank's 2 percent target. Underlying price growth hasn't reached that level since the end of 2010.
But Ingves said he's now "happy" with the krona exchange rate. He said the bank can always do more should the currency strengthen "too soon or too much."
"If that were to happen in a very, very marked way that would probably affect us, so we would have to deal with it as best we can," Ingves said in an interview after Thursday's rate announcement.
The krona slid 0.2 percent to 9.3774 per euro as of 8:29 a.m. in Stockholm.

The governor also expressed satisfaction with the results of his bond-purchase program, which has pushed short-term Swedish yields below rates on German debt and left longer yields almost on an equal level.
"If you look at this in a longer time frame, that situation is absolutely remarkable," he said. "We're happy with it."
Ingves said it was still too early to tell whether the bank will expand or buy other assets for its quantitative-easing program. Morgan Stanley and other banks have speculated it may eventually need to start buying covered bonds as existing measures cut the size of the government bond market.
"There are many ways to expand our balance sheet," Ingves said. "There's not one single solution to creating more money."
There are signs that the emergency measures implemented by Ingves and his colleagues are starting to work: underlying consumer prices rose by 0.9 percent in July, exceeding economists' estimates. The stimulus is also feeding through to growth, with Sweden's economy expanding at an annual rate of 3 percent in the second quarter.
The bank sees economic growth of 3.1 percent this year and 3.4 percent next year. Inflation will be flat in 2015 and reach 1.8 percent next year, according to its new forecasts.
Ingves said he expects some more currency strength in the future.
"Given that we're running very large current account surplus over the coming years and given that basically economic developments, falling unemployment and so forth look pretty good in the Swedish economy, most likely sometime in the distant future the krona is likely to appreciate," he said. "Currently, we're happy with the level that we observe right now."