Scott Walker-Backing PAC Buying $9 Million in Early State Ads
Unintimidated PAC will buy ads in New Hampshire, South Carolina, and Nevada.
By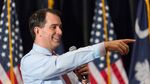 With Wisconsin Governor Scott Walker sagging in the polls, Unintimidated PAC, the super political action committee backing his Republican presidential bid, is buying an additional $9.25 million in advertising in South Carolina, New Hampshire and Nevada.
The new spending follows a previously announced $7 million buy in Iowa scheduled to start Tuesday and continue until the Feb. 1 Iowa caucuses.
The bulk of the new money—$8 million—will be spent in South Carolina, starting Nov. 7. The markets covered will include Charleston, Greenville/Spartanburg, Columbia and Myrtle Beach, as well as the top 10 cable networks in the state and rural and metro radio.
"Governor Walker is known for taking on the big government union bosses and liberal special interests, but it's his results of turning deficits into surpluses, returning surpluses to taxpayers with billions in tax cuts, expanding school choice, and fighting to make government unions pay their fair share like the rest of us that separate him from other candidates," Brad Dayspring, a senior adviser to Unintimidated PAC, said in a statement.
Besides South Carolina, the super-PAC is also expected to spend in New Hampshire. That buy will run the week before the primary and include Boston broadcast and WMUR (Manchester), as well as satellite TV and cable.
In Nevada, the group is buying $400,000 for the week before that state's caucus. The coverage will include broadcast stations in Las Vegas and Reno, as well as cable and conservative radio.
The new purchases were reported earlier Wednesday evening by the Wall Street Journal.