Portuguese Shoemakers Get Fancy
Companies threatened by China bet on Italian-grade quality and speed
By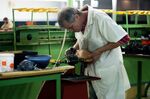 Alberto Sousa and his son, Filipe, are survivors. When their shoe factory northeast of Porto began losing clients to China a decade ago, the family-owned business revamped its strategy. "My father said to me, 'Our costs are higher, our team is better. We have to sell better shoes,' " recalls Filipe, who is general manager of Alberto Sousa. Rather than compete with Asia on price, the Sousas wooed high-end labels and launched their own line of leather shoes, Eureka. Today the 430-employee company is among the biggest in Portugal's shoe industry, producing 2,200 pairs daily and operating almost 30 stores. Revenue was €28 million ($32 million) in 2014; the company estimates it will bring in €31 million this year.
Despite Portugal's recent economic troubles, which forced its government to seek a €78 billion bailout in 2011 and implement harsh austerity measures, the Sousas and other shoemakers are thriving. The nation's roughly 1,500 shoe factories employ more than 37,000 people and last year exported 77 million pairs worth more than €1.8 billion, up 50 percent from 2009, according to the Portuguese Footwear, Components and Leather Goods Manufacturers' Association. The industry's evolution from low-end to high-end exporter is a "major success story for Portugal" and a bright spot amid the crisis, says José Neves, the Portuguese-born founder of Farfetch, a London-based fashion e-tailer that stocks products from hundreds of independent boutiques worldwide. Neves also founded a company that helps shoe designers find manufacturers in his native country.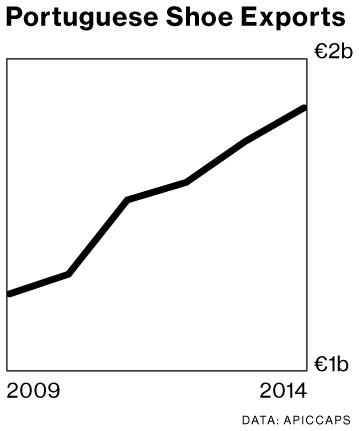 Portuguese shoes now command the world's second-highest average export price after Italy—almost $32, compared with about $4.50 for shoes made in China, according to the manufacturers' association. That's up from $21.38 in 2004. Leandro de Melo, managing director of the Portuguese Footwear Technology Centre, an industry- and government-funded organization that helps shoemakers upgrade their operations, points out that over the past decade, Portugal's production has increased at a faster pace than those of other European countries, while Italy's has declined. Hobbled by higher labor costs, Italy has concentrated more on finishing shoes they import instead of manufacturing them from scratch. "It's proof our strategy is the correct one," de Melo says.
The Portuguese shoemakers thriving today followed a strategy similar to the Sousas': They used profits reaped during the industry's Golden Age in the 1980s, when foreign companies flooded them with low-end work, to buy better machinery. Equipped with tools like precision, high-speed waterjet cutters, factories can profitably produce small batches of multiple styles for luxury designers. Thanks to such investments, Portugal's factories are more flexible than their Asian counterparts, and faster, says João Maia, executive director of the leather goods association. Craftsmanship is Italian-grade, says Neves of Farfetch, but costs are 20 percent to 30 percent less. "All the big luxury labels have some part of their shoe collections developed or produced in Portugal," he says.
The world's biggest apparel retailer, Inditex, described Portugal as "a very significant" supplier in an e-mail, though it declined to disclose the percentage of footwear it buys from the country. Danish shoemaker Ecco, which operates factories and more than 3,000 retail outlets around the world, last year reopened its Portuguese plant, which it had closed in 2009. Ecco returned in part to take advantage of "some of the best shoemaking knowledge," spokeswoman Eva Kloch Norlyk wrote in an e-mail. Alberto Sousa's clients include Germany's Birkenstock, U.K. designer Sophia Webster, and Hennes & Mauritz's upmarket label COS. Filipe Sousa says he has so many orders he's had to subcontract work to other factories to meet demand.
As orders begin flowing back to Portugal, the industry should take care not to neglect its own brands, says Vasco Sampaio, whose father started Sozé in 1976. The shoe manufacturer's house line, Dkode, supplies about half of the company's annual revenue. "It's so easy to put your own brand at the end of the line. And that is a big, big mistake," says Sampaio. "Nobody can think we'll have a rich country, a developed country, just working for others."
The industry has been buoyed by a proliferation of homegrown brands, with most fetching at least €100 per pair at retail. At his company's factory, Filipe Sousa shows off €140 leather boots from his Eureka brand, noting that margins on the six-year-old line are better than they are on contract orders. Eureka accounts for about one-third of the factory's output, he says, and will be half next year.
At 200-employee Macosmi, a Portuguese shoemaker that invested €2 million in a factory renovation that includes a vertical garden on a warehouse wall, commercial director Pedro Lopes says house brand Coque Terra already accounts for one-quarter of the company's business, even though it's just three years old. "Made in Portugal is selling," he says.
The bottom line: Portugal's 1,500 shoe factories have increased the value of their exports by 50 percent since 2009.
Before it's here, it's on the Bloomberg Terminal.
LEARN MORE