OSHA Is Still Working on Silica
Obama may join other presidents who have tried and failed to contain industrial dust
By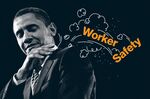 In a 2013 speech to the AFL-CIO, U.S. Labor Secretary Tom Perez shared the story of Alan White, a fortysomething man who told him, "If I walk a half a mile, I've got to sleep 13 hours." White, Perez explained, was a victim of silica, a mineral substance found in rock that's commonly released as dust during construction, mining, and fracking. Numerous studies have concluded breathing silica dust can cause the pulmonary disease silicosis, as well as lung cancer. "Alan's fear is that, in his case, the issue will be studied quite literally to death," Perez warned. "I don't want that to happen." Yet, when he was asked how soon the federal Occupational Safety and Health Administration (OSHA), which he oversees, might finalize long-discussed regulations on silica dust, he demurred. "You know," he said, "whenever you try to give a precise date, you always end up being wrong."
Since 1974, the federal Centers for Disease Control and Prevention has consistently recommended that OSHA issue a stronger rule to control silica exposure, which OSHA estimates would save 699 lives and prevent 1,626 silica-related illnesses a year. OSHA began working on silica under President George W. Bush, and in December 2009 it announced a schedule for publishing a proposed regulation by July 2010. In February 2011, months behind schedule, the agency sent a draft rule to the White House for what was supposed to be a 90-day review. Instead, the Office of Management and Budget held on to it for two and a half years. "The silica rule got caught up in a larger debate about regulations and the economy," says Seth Harris, then acting secretary of labor.
The struggle to control silica is part of a pattern of weakness that characterizes OSHA. "They aren't able to address a long list of commonsense problems, because the process of addressing them is just too hard," says Harris, now a private attorney and a distinguished scholar at Cornell. The agency has a small budget and an ever-lengthening list of bureaucratic boxes it needs to check each time it wants to toughen regulations. "We made silica a priority from the beginning of the Obama administration, and it still takes seven or eight years," says OSHA head David Michaels. "We will get it out before the end of President Obama's term."
Since OSHA was created in 1970, workplace deaths have dropped by about two-thirds. But the agency's fallen short of its founders' ambitions, especially when it comes to substances that kill over time. Congress gave OSHA a "general duty" authority to address some known dangers, but that's been hemmed in by courts. OSHA has a 48-step rule-making process that includes conducting health studies and soliciting public comments.

Most of OSHA's chemical rules, including the one governing silica, were adopted in 1971 from the American Conference of Governmental Industrial Hygienists (ACGIH), a nonprofit that develops workplace safety guidelines. While ACGIH continued updating its safety guidelines, most of OSHA's haven't changed since. "To enforce a standard, you have to set one," says Rebecca Reindel, a senior health and safety specialist for the AFL-CIO.
OSHA's existing silica standard requires construction companies and shipyards to limit the level of silica in the air at work sites to around 250 micrograms per cubic meter as an eight-hour time-weighted average and other industries to limit it to about 100 micrograms. OSHA first announced in 1974 it intended to write a stronger silica rule. In 1989, on the day before Ronald Reagan left office, it issued an omnibus air contamination rule that would have applied to hundreds of substances including silica, but a federal appeals court threw it out. Bill Clinton's OSHA acknowledged a silica issue but prioritized an effort to regulate ergonomic injuries, only to have that new rule scrapped by Congress as soon as he left office. "Right now, with the current requirements, it can't be done in four years," Michaels says.
Skeptics of the proposed silica rule say there's good reason for taking it slow. "The process is definitely a tedious process," says former George W. Bush OSHA chief Ed Foulke. "It makes sure that the standard is well thought-out." The National Federation of Independent Business, a trade group, says the change, which cuts the allowable silica concentrations in the air by at least half, would cost businesses $7.2 billion a year and eliminate about 27,000 jobs over a decade. Dan Bosch, the group's senior manager for regulatory policy, says OSHA should focus on increasing compliance with the existing silica regulation. "We think the current standard has been working," he says. "There hasn't been enough effort to help businesses comply with the rule as it currently stands." OSHA estimates that the rule would cost about $664 million per year and yield $5.3 billion in economic benefit by preventing death and chronic illness.
OSHA was supposed to finish reviewing public comment on its proposed rule in June. "If OSHA is unable to get out a rule on silica, something with such strong scientific evidence and completely feasible controls, then we can pretty much eliminate the notion that OSHA can get out regulations on any kind of health standard," says former OSHA legislative analyst Celeste Monforton, now a lecturer at George Washington University. "You might as well just rip those pages right out of the OSHA statute." She argues that the agency needs a streamlined rule-making process and more leadership from the White House.
Obama has already threatened to veto Republicans' proposed budget for the U.S. Department of Labor, which includes an amendment from North Dakota Senator John Hoeven requiring fresh studies before OSHA finalizes its silica rule. "It's costly and unworkable," says Hoeven, whose state has benefited from the fracking boom. Labor advocates say they're pressuring the White House not to let the issue go. "I suspect that Obama's going to get a lot of heat if he negotiates away the silica rule during the negotiations over that budget," says Mary Vogel, executive director of the National Council for Occupational Safety and Health. "Certainly he'll take a lot of heat from activists like us."
Yet, even if a rule goes into effect, both sides expect business interests to take the issue to court. "We'll expect to explore all of those strategies," says Associated Builders and Contractors Vice President of Government Affairs Geoff Burr, who cites the decline in deaths from complications of silicosis—from 1,065 in 1968 to 111 in 2013, according to the CDC—as evidence that the issue has already been addressed. "We think this is a problem that is pretty well under control," he says.
"The country ought to be just as outraged over seven people dying from terrorism or seven people dying from silicosis," says AFL-CIO President Richard Trumka, "because those are seven citizens that didn't need to die either way."
The bottom line: OSHA has been trying to update silica rules since 1974 but still hasn't succeeded.
Before it's here, it's on the Bloomberg Terminal.
LEARN MORE