Mexico Throws a Wrench Into Trade Talks
The nation is opposed to granting Japan concessions on autos
By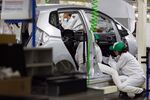 When exhausted officials from the 12 countries negotiating the Trans-Pacific Partnership wrapped up a week of talks in Hawaii at the end of July without reaching a deal, Mexico's economy minister, Ildefonso Guajardo, brushed off efforts to pin the delay on him. "What you can accuse me of," he told the press with an amused smile, is advocating for "the interests of my country."
Guajardo is fighting to ensure that the TPP does not jeopardize gains his country has made under the North American Free Trade Agreement, which eliminated tariffs on goods shipped between Canada, Mexico, and the U.S. Ford Motor, General Motors, and Chrysler (now Fiat Chrysler Automobiles) all expanded production south of the Rio Grande after the deal took effect in 1994 to take advantage of duty-free access to the U.S. market and Mexico's low wages. European and Japanese manufacturers did the same. Last year, Mexico overtook Japan to become the second-largest exporter of vehicles to the U.S., behind Canada.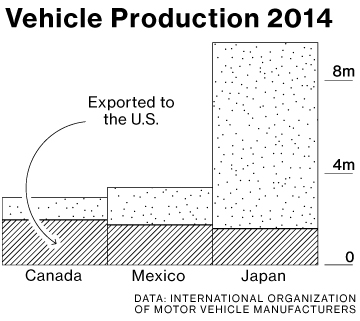 Clinching a deal on the TPP, a trade bloc that would stretch from Chile to Japan and cover 40 percent of the world's economic output, is a top priority for President Obama. To speed the talks along, Washington provisionally agreed that Japan's automakers should be allowed to ship vehicles to North America duty-free, even if a significant proportion of their content comes from non-TPP countries. (The U.S. levies a 2.5 percent duty on autos and 25 percent on light trucks from outside the Nafta area.) In the eyes of the Mexicans, that means "anyone who is willing, ready, and able to build pickups could become a challenge," says Guido Vildozo, an analyst with consultant IHS Automotive.
Technically, the tussle is over so-called rules of origin. Under Nafta, a vehicle must get 62.5 percent of its content from inside the free-trade area to qualify for duty-free treatment. Japan has been pressing for a lower threshold of 30 percent, as its automakers, including Renault-Nissan and Toyota Motor, get many of their components from China and Thailand, countries that aren't part of the TPP negotiations. Washington agreed to meet Tokyo somewhere in the middle in bilateral talks that preceded the larger meeting in July in Maui. The Mexicans, as well as the Canadians, weren't pleased.
Carmakers and others in the industry are taking sides on the issue. The Mexican Automotive Industry Association has said its members could live with a TPP regional content requirement of 50 percent. But parts suppliers from Mexico and Canada have urged officials from both countries to stand pat, saying in an Aug. 20 letter that caving in to Japan's demands would overturn "20 years of economic integration."
Autoworkers in all three Nafta countries also stand to lose if Japanese carmakers are allowed to substitute parts made in Thailand for those from Texas or Tamaulipas. "We need a fair standard that won't allow Asian-Pacific car companies to game the system," Dennis Williams, president of the United Automobile Workers union, wrote in an e-mail. "A low standard will lead to even more outsourcing to poor countries and fewer jobs in the United States." U.S. and Japanese automakers declined to comment.
Caught in the middle is U.S. Trade Representative Michael Froman, who's known Obama since their days together at Harvard Law School. Froman wants to wrap up the TPP in the coming weeks and cement the president's legacy of rebalancing U.S. foreign policy toward Asia. USTR spokesman Matthew McAlvanah says American negotiators have to find "the right balance between the needs of domestic auto producers, who have made clear that they rely on international supply chains to be able to produce in the U.S., and our desire to promote U.S. sourcing and American jobs."
Mexico's unlikely to let go of the issue. The country has a great deal invested in prolonging the status quo: One out of almost five vehicles built in North America last year was made in Mexico, double the proportion in 2005. IHS expects that to rise to 1 in 4 by 2020, as companies including Volkswagen, Ford, and Nissan add capacity in the country. Nations such as Vietnam and Malaysia hope to use the TPP as a springboard to become an export platform for autos, potentially diverting that new investment from Mexico. "The Mexicans know it's possible," says Vildozo of IHS, "because they did it."
—With Nacha Cattan
The bottom line: Mexico fears that the Trans-Pacific Partnership may jeopardize its status as the No. 2 vehicle exporter to the U.S.
Before it's here, it's on the Bloomberg Terminal.
LEARN MORE