Maldonado Sworn in as Guatemala President as Scandal Widens
By
Otto Perez Molina resigned in wake of bribery accusations

Maldonado will oversee presidential elections on Sept. 6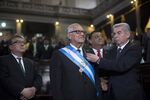 Alejandro Maldonado, a 79-year-old former congressman and head of Guatemala's constitutional court, was sworn in as president on Thursday after a bribery scandal prompted Otto Perez Molina to resign.
Maldonado, who ran for president in 1982 and became vice president in May after his predecessor Roxana Baldetti quit, will finish out a presidential term set to end Jan. 14. Along with helping restore political stability to Central America's largest economy, Maldonado will oversee elections scheduled for Sept. 6.
"As Guatemalans we can recover our democracy with its substantive values," Maldonado said after taking the oath of office at the congressional building in the capital.
Perez Molina, 64, offered his resignation after the attorney general last week accused him of accepting bribes from companies seeking to avoid customs taxes. He has repeatedly rejected the allegations and said in a letter to Congress that he was stepping down to protect Guatemala's institutions and focus on his defense.
"The institutions are working," lawmaker Orlando Blanco said after voting to accept Perez Molina's resignation. "Today, civilized and democratically, we are providing an exit to a crisis and that's how the system should work."
'Get Going'
Maldonado, who got his start in politics as a member of the Guatemala City city council in 1956 and once served as ambassador to Mexico, avoided publicly calling for Perez Molina's resignation after the attorney general's report, saying it would be unethical.
"Don't ask me to tell the president, 'Get going because I want to sit in your seat,"' Maldonado said in an Aug. 27 interview on Sonora radio. "I can't ask for something that will directly benefit me."
While Congress accepted his resignation, Perez Molina sat next to his lawyer in a Guatemala City courtroom to hear the formal charges against him. A judge could order his immediate arrest pending future hearings or send him home. He is barred from leaving the country. In an interview with Sonora radio before the hearing, he called accusations against him "unjust."
The political crisis is unlikely to have a significant impact on the $59 billion economy, according to Franco Uccelli, an emerging markets analyst at JPMorgan Chase & Co. in Miami. Guatemala, which exports coffee, textiles and gold, also serves as a gateway between Latin America and the U.S. for migrants and drugs.
Economic Impact
"The economy has sustained the blow reasonably well," Uccelli said in a phone interview before the president's resignation. "Once political turmoil dissipates, economic policy will take center stage and people will realize that the impact wasn't so severe."
Nevertheless, the legal developments are a milestone for Guatemala and Central America, where weak legal institutions have historically struggled to bring leaders to justice. Guatemala's efforts in this case, which were aided by a special United Nations prosecutions unit, contrast with its bid to put former military dictators on trial for crimes that took place decades ago.
While he avoided publicly calling for Perez Molina's resignation in recent weeks, Maldonado did voice support for Guatemalans who turned out by the tens of thousands over months to protest corruption in the government.
"It's an expression of young and old Guatemalans, Guatemalans of all social classes that are letting us know their protest," he said Aug. 27. "It's like when a river overflows and it starts taking houses and properties with it. It's been raining for a while."