Cars
Jaguars Are About to Get a Lot Cheaper
With two new models, Tata is steering the sexy, stagnant British brand right at BMW
By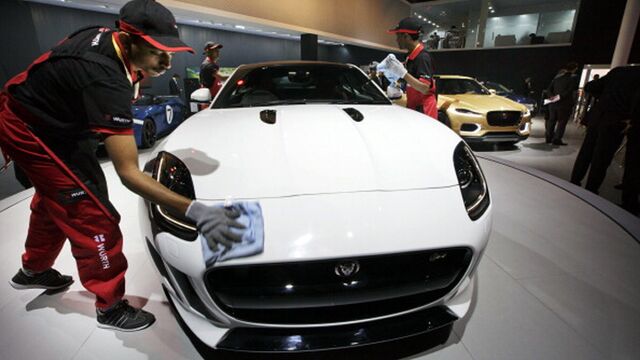 A decade from now, business school professors will probably be teaching a case about what Jaguar is about to do. Whether it's a cautionary curriculum remains to be seen.
The august British brand, owned by Tata Motors, of India, is rolling out two all-new vehicles at almost the same time, expanding its product line by 66 percent in a blitz of R&D just about unheard of in the auto industry. This morning, Jaguar will announce that it is also slashing prices, aggressively moving downmarket with its current lineup and parking its two new models squarely in the "entry luxury" space.
In short, Jaguar 1 is no longer content to be a quirky, niche carmaker favored by collectors and the country-club set. It wants volume. It wants millennials. It wants, in a way, to be BMW.

"I think from a normal perspective you want to have a more staggered approach," says North America Chief Executive Officer Joachim Eberhardt. "But what we're trying to do here is grab the attention of the marketplace. … In a way, this is a once-in-a-lifetime opportunity of completely redoing and retooling the brand."
Today, Jaguar will reveal that its XE sedan will have window stickers starting at $34,900, just a bit more than the starting line for BMW's 3-series and a touch less than that of the Mercedes C-Class 2 . So far this year, the average sticker price on a Jaguar in the U.S. is around $75,000, according to Edmunds.com.
The new version of Jaguar's larger XF sedan will be 9 percent cheaper than the outgoing version, with a starting price of $51,900. Meanwhile, its top-of-the-line sedan, the XJ, will still run at least $74,400 but will soon be packed with about $7,000 in additional options and equipment at no extra charge.
The company is also unveiling a robust new warranty plan. Dubbed EliteCare, the program will come standard on all new Jaguars and cover the vehicles for five years or 60,000 miles, roughly a year longer and about 10,000 miles further than most competing programs.
Tata wants to remove any rationale for not buying a Jaguar.
What seems like a sharp turn in corporate strategy was actually years in the making. Despite all of Jaguar's enduring panache and brand power, drivers have always had a knock or two against it. In the early days, when Jaguar was cranking out its slinky sports cars, such as the E-Type (the "Shaguar" of the Austin Powers movies), it had a reputation for making unreliable cars 3 .

When Ford bought the brand in 1989, the problems were exacerbated. Jaguar suddenly seemed both unreliable and significantly less sexy. The Detroit partnership rankled Jaguar purists and did little to attract new fans.
Design Chief Ian Callum says the brand felt broken when he took the job in 1999. "It was chasing the past literally too much," he says. When Ford sold Jaguar and Land Rover to Tata in 2008, it got just $2.3 billion, roughly half of what it paid for them.
Tata ownership has been liberating, according to Callum. Designers have been encouraged to make more current cars and slowly swap out Ford parts for systems and components built in-house. Buyers, however, have not seemed to care much.

Since 2005, Jaguar registrations worldwide are down 9 percent, according to IHS. Audi does that kind of volume in about two weeks. Land Rover, which Tata bought with Jaguar, has been a different story. Spurred by new models and a market craze for SUVs, it has more than doubled registrations in the past decade.
Jaguar finally got some traction in 2013 when it rolled out the F-Type, a crouching panther of a sports car with a hint of the 1960s E-Type. The car won rave reviews and was quickly deemed by many as the most beautiful machine on the market 4 . Trouble is, not many people buy sports cars; they are a niche market within the already limited luxury category.
When it comes to high-end vehicles, the money these days is in small sedans and SUVs. Of all the luxury cars bought in the U.S. this year through July, some 47 percent were utilities and another 29 percent were entry-level sedans. Jaguar, hustling to burnish its brand, had completely neglected three-quarters of the market.

That may change this fall when Jaguar starts selling its XE sedan. The car most closely resembles BMW's 3-series, the standard by which all similar machines—and sales goals—are measured. Last year in the U.S., BMW sold nine of its small sedans for every Jaguar leaving the lot.
The hope is that the XE will appeal to "those that just want to stand out a little bit in the sea of luxury sameness," Eberhardt says. It is also one of the first Jaguars in about 25 years that won't have any Ford parts. It sits on an all-new aluminum infrastructure that Jaguar is promising will be a dramatic change in both weight reduction and responsiveness.
The same thesis holds for the new SUV, the F-Pace. "I told the team they've got to design a Jaguar first, and it will just happen to be a crossover as well," Callum says.

Driving the brand back into the sweet spot of the luxury market isn't cheap. This year alone, Jaguar is spending $5 billion in developing new vehicles and the factories in which to build them. That's roughly one of every seven sales dollars, as it hammers together production facilities in Brazil, India, and Slovakia. The company even bought a star-studded Super Bowl ad in 2014. "That probably wasn't the best decision, if you look at it on the surface," Eberhardt says, referring to the cost of the ad. "However, it set the stage for this next generation of Jaguar."
The success of Land Rover, in part, is bankrolling Jaguar's bold gambit. But Germany's Big 3—Audi, BMW, and Mercedes—have never been more powerful, and there is no shortage of car companies trying to cast themselves as the hipper and even faster cousins of the German luxury giants. 
Cadillac, which has been taking that angle for years, recently moved its headquarters to New York and launched an expensive ad campaign taking aim at the "ubiquity" of its German competitiors. Volvo, now owned and liberally bankrolled by China's Geely, is steering a similar course. Still more mainstream carmakers are taking a run at luxury buyers looking for something new. Even Kia, a brand built on value-oriented buyers, has tested the blue-blood market. Its K900, hyped by LeBron James, starts at $54,500.
Eberhardt is hoping some of Jaguar's old mojo carries the day. "Brands take an awful long time to be built ... as a result, they are quite resilient," he says.
Callum is more excited about the new cars. Jaguar hasn't started taking orders for them yet, but 26,000 U.S. drivers have already raised their hands, online or in dealerships, for the XE or the F-Pace.
"We're in a good place," Callum says. "I don't want to be too predictive—and I'm touching wood here—but I think our time has come." 

Before it's here, it's on the Bloomberg Terminal.
LEARN MORE