When Shopkeepers Help You Tap 'Buy'
Indian startups give rural stores a cut to sell to villagers via tablets
By and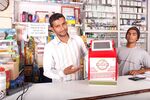 Since 2013, at least $8.6 billion has poured into Indian e-commerce companies. The slice of the population that's ever shopped online: 4 percent. As the country's leading Internet bazaars—Flipkart, Snapdeal, and Amazon India—hawk wares to the urban, English-speaking middle class, they're all but ignoring the 510 million working-age adults living in rural areas.
"These people don't trust an app or a website" even if they have a phone, says Krishna Lakamsani, founder of e-commerce startup IPay. "They will only buy from someone they know and trust." That's why IPay and rival StoreKing are recruiting local shopkeepers to sell online goods in their stores in exchange for commissions.
By relying on merchants to persuade people to buy online, IPay says it moves about $1.6 million worth of merchandise each month through 6,000 shopkeepers' tablets in India's southern states; StoreKing sells $4.2 million through 10,000. The early returns are promising, even if they're a sliver of Flipkart and Snapdeal, each of which says it sold $300 million worth of goods in June. Amazon wouldn't disclose sales.
During a February visit to the grocery store near her home outside Hyderabad, Anusha Mangalarapu, was just looking for sugar. But at shopkeeper Ganesh Panjala's urging, she toyed with an IPay tablet and ended up ordering dishes. "I've been shopping here since childhood, and when Ganesh showed me this new service, I decided to try it," the college senior says. She's since ordered clothes, a phone, a DVD player, and a scooter cover through the shop's tablet.
For the shopkeepers, commissions range from 4 percent to 10 percent, and the tablets—$134 from IPay, $226 from StoreKing—quickly pay for themselves. During the eight months Panjala has had the IPay unit, he says, each day he's done about $30 worth of business on it, one-seventh of his sales.
Using shopkeepers to push the tablets means IPay and StoreKing don't have to worry about training most customers to order through their apps. Because shipments get delivered to the shops, there's less risk of losing goods on remote roads. And the buyers pay cash, so the companies don't have to invest in electronic payment systems. "We've been generating operating profits from Day One," says StoreKing Chief Executive Officer Sridhar Gundaiah. "That's something none of the big e-commerce companies can boast of." Amazon and Snapdeal say they're experimenting with kiosks that also help customers buy online.
It'll be a decade before most IPay or StoreKing customers are Web-connected and savvy enough to buy from one of the bigger e-commerce companies on their own, says Anil Joshi, founder of Unicorn India Ventures. "As long as people don't have smartphones or don't know how to use apps, these services will flourish," says Joshi. "As the infrastructure improves, these guys will suffer."
By then, the two-year-old startups say, they'll be indispensable. StoreKing, which has received about $5 million in venture funding from early Skype backer Mangrove Capital Partners, buys spare truck space from a network of deliverymen working for companies such as Unilever and Nestlé. CEO Gundaiah says his delivery model could be an asset for bigger companies.
IPay plans to give shopkeepers a cut of a wider range of services, including rail tickets and utility payments. Already, Lakamsani says, IPay gets 40 percent of its revenue from fees people pay to add voice minutes to their prepaid phones. When they come in for minutes, he says, that's the time for the upsell.
The bottom line: StoreKing and IPay are creating a rural e-commerce market in India by selling via tablets in thousands of local stores.
Before it's here, it's on the Bloomberg Terminal.
LEARN MORE