In Canada's Election, Voters Lean Left
The Conservatives face a stiff challenge from the New Democrats
By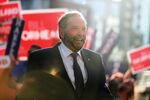 At the national level, Canadian politics had always been a rivalry between two parties: the Conservatives and the Liberals. On Oct. 19, when Canadians vote for representatives to their House of Commons in Ottawa, the Conservatives under Prime Minister Stephen Harper will once again compete with the Liberals under Justin Trudeau, son of the late Pierre Trudeau, who was prime minister for a total of 15 years, from the late 1960s into the 1980s, and the Canadian leader most familiar to the country south of the border.
But Harper and his Conservatives are under assault by another party, one that people in the U.S. may never have heard of. The New Democratic Party, which has its origins in socialist and social democratic groups in Canada's west, is promising a center-left agenda that includes subsidized child care and higher taxes on corporations. It's polling at 33 percent, the Conservatives at 29 percent, and the Liberals at 28 percent, according to the Canadian Broadcasting Corporation. Canadians are starting to think New Democratic Party leader Tom Mulcair could be the next prime minister. That would be a first for the NDP, which has run various provinces but never led the nation.
Mulcair, a lawyer from Quebec, is exploiting a Sept. 1 release of data showing the economy contracted for the second quarter in a row. That means Canada on Harper's watch is technically in recession despite the prime minister's reputation for economic stewardship. Harper is seeking to become the first prime minister in more than a century to win a fourth consecutive term. Canadians historically get restless after the incumbent has been in office for two or three terms.
In a platform that echoes Harper's, Mulcair, a former provincial Liberal cabinet minister, is promising to balance budgets and deliver deeper tax cuts for small business while pledging new spending on social programs. The difference is Mulcair's intention to increase taxation of big corporations.
Two years ago, the NDP dropped the word "socialist" from its constitution. That's no salve to those who want to preserve the status quo. The Canadian Imperial Bank of Commerce said in an Aug. 23 research note that the Toronto Stock Exchange's recent volatility stemmed in part from fear that neither Liberals nor Conservatives could form a government. David Rosenberg, chief economist at Gluskin Sheff, says global investors will require a premium to hold Canadian securities amid the uncertainty, especially if a minority government emerges. "The markets tend to shoot first and ask questions later," he says.
Populous Ontario has acted as a swing province in elections. Two decades ago, voters there elected the NDP during a recession but tossed it out after one term of deficit spending. An Aug. 31 Abacus Data poll found Mulcair's support in Ontario sliding, from 32 percent in mid-August to 26 percent at month's end.
The NDP was founded as a national party in 1961. Its leader was Tommy Douglas, a five-time premier of Saskatchewan, who's seen as the father of Canada's universal health-care system. Douglas's provincial government introduced social programs over a period of years, making sure budgets were balanced in the process. "Saskatchewan is the model for Mulcair," says David McGrane, a professor at the University of Saskatchewan, who's writing a book on the NDP. "He's going to increase social spending—that's exactly what Tommy Douglas did—but it's not going to be a sudden shock."
For 50 years, the NDP was a minor factor in Canada's House of Commons, but in 2011 it leapfrogged the Liberals and became Harper's official opposition. The "Orange Wave"—orange is the party color—had swept through Quebec, where New Democrats took previously unwinnable districts, propelled by the popularity of party leader Jack Layton.
Layton, who died in August 2011, "had charisma that basically Tom doesn't have," says Blair West, 79, a retiree and NDP supporter who attended Mulcair's recent speech in Saskatoon. Still, Mulcair is winning over party faithful who had doubts about the former moderate Liberal. Says Barb Campbell, another NDP supporter at the speech: "After seeing Mulcair speak, I think, yes, he would be a very good prime minister. I wasn't so sure before."
The bottom line: The NDP candidate Tom Mulcair wants to balance Canada's budget and still expand social programs.
Before it's here, it's on the Bloomberg Terminal.
LEARN MORE