Don't Call It a Sequel
Why Hollywood's obsessed with resuscitating decades-old characters
By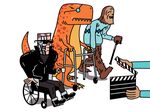 With each passing year, Hollywood looks further back for properties to revitalize. And this summer proved the industry has yet to meet a title that's too washed-up to dust off. "The people who decide what's going to get made have come of age," says David Poland, editor-in-chief of Movie City News. "They're making the kinds of movies they were obsessed with as kids."
That explains breakout titles like Mad Max: Fury Road, featuring a character last seen in Mad Max: Beyond Thunderdome, which opened 30 years ago. Or Jurassic World, Universal's critically dismissed dino revamp, which grossed more than $1.6 billion worldwide, making it the year's biggest hit so far. There's since been a so-so new Vacation and a solid Mission Impossible, but the real nostalgia trip is yet to come. Star Wars: The Force Awakens opens in December. Disney and Lucasfilm are already filming two more with Oscar Isaac and the other new stars.
It used to be that faithful sequels released in rapid-fire succession were surefire hits. Strangely, the further these franchises have strayed from the source material, the better they've done. Simply updating an old storyline no longer draws an audience. Late June's Terminator: Genisys, for instance, featured Arnold Schwarzenegger returning to the role that made him a superstar back in 1984. Marking Schwarzenegger's first appearance as the Terminator since 2003, the Paramount release felt like a retread of the earlier films. And it opened to a pathetic $27 million.
Fans of the Transporter series will probably scoff at The Transporter: Refueled, Lionsgate's sad attempt to revive a franchise that starred Jason Statham as a hotshot driver who carries secret cargo for shady figures. The last one, Transporter 3, opened in 2008 to decent, if unspectacular, numbers—$31.7 million in the U.S., $109 million worldwide—capitalizing on the rise of its tough-guy star. But that was seven years ago. After Statham refused to sign on for three more movies, the studio swiftly replaced him with Ed Skrein, a relatively unknown English actor.
Jurassic World, for its part, looked little like its predecessors. At first, director Colin Trevorrow's film came under fire for what some considered sexism, but that didn't stop people from buying tickets. "Many young adults who were part of the Jurassic Park summer of 1993 came out with their kids in tow," says Gitesh Pandya, founder of Box Office Guru. "Audiences were ready to see dinosaurs eat people on the big screen again," Poland says. The script, although technically a sequel, relied on fresher faces playing new characters. It helped that one was Chris Pratt, a huge star after last year's Guardians of the Galaxy.
Terminator: Genisys also tried to surround its weathered star with young blood, but it didn't help. "Schwarzenegger has had one failure after another since he returned to movies," says Phil Contrino, chief analyst at boxoffice.com. And the film, which lacked the guiding hand of creator James Cameron, wound up feeling like a lackluster rehash, not a reinvention for a new generation.
There is hope yet for international success. Genisys had a massive opening in China on Aug. 23, making $27 million in one day. That's why "resuscitating even a decades-old franchise is often more appealing than making an original film," Pandya says. So prepare yourself for the all-female Ghostbusters, coming in January. And the update to 1982's Blade Runner. And the follow-up to 1996's alien-invasion hit Independence Day. And even Top Gun 2, which will reportedly bring back Tom Cruise some 30 years after he first took flight. After that comes The Legend of Conan, featuring Schwarzenegger as the aging barbarian he made famous in the mid-'80s. Then, probably, another Terminator. The "I'll be back" jokes are just writing themselves.
Before it's here, it's on the Bloomberg Terminal.
LEARN MORE