Euro Drops as ECB Adjusts Bond-Buying Cap, Sees Downside Risks
Eshe Nelson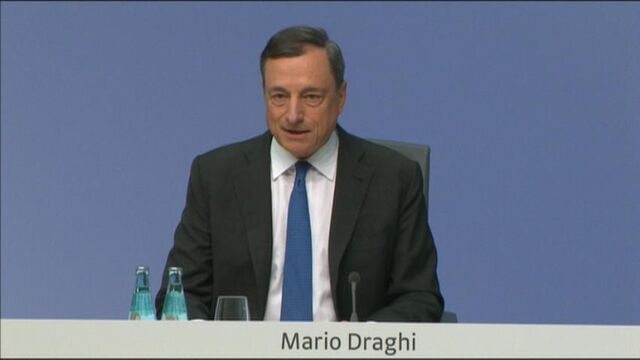 The euro fell to a two-week low as the European Central Bank signaled it's able to increase monetary stimulus to counter downside risks to growth and inflation.
The shared currency weakened versus all but one of its 16 major counterparts after President Mario Draghi said policy makers adjusted the parameters of their bond-buying program and lowered economic forecasts. The ECB raised the limit on its bond purchases under its quantitative-easing program to 33 percent per issue from 25 percent previously.
"Dovish Draghi taking markets by surprise," said Valentin Marinov, head of Group-of-10 currency research at Credit Agricole SA's corporate and investment-banking unit in London. Policy makers are "highlighting that they can adjust the size of QE if needed and finally signal that September 2016 may not be the end of QE."
The euro dropped 0.8 percent to $1.1142 at 1:48 p.m. London time and touched $1.1124, its weakest level since Aug. 20. It dropped 0.9 percent to 133.83 yen.