politics
Donald Trump Pledges Loyalty to the Republican Party in True Trump Fashion
The billionaire candidate decides that the GOP is big enough for all of his presidential ambitions.
By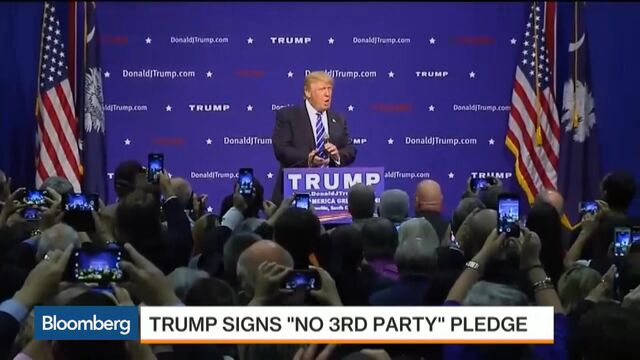 On Thursday afternoon, Donald Trump stood in the lobby of Trump Tower, before the Trump Store and beside the Trump Bar, and announced that he would play by the Republican Party's rules after all. 
The front-runner in the crowded contest for the Republican presidential field had just met with Reince Priebus, the chairman of the Republican National Committee, and signed a pledge vowing not to run as an independent in the event that he does not win the Republican presidential nomination. 
"I will be totally pledging my allegiance to the Republican Party," he said, "and the conservative principles for which it stands." 
The pledge was another sign of his confidence: a show of party sportsmanship that Trump, being Trump, managed to make into a national news event. Priebus had come to Trump's turf to procure the signature—which, a Trump adviser told Bloomberg, only ratified Trump's "alpha male" status. 

"I was greatly honored that he did come up, frankly," Trump said of Priebus. Then he assured the crowd, barely reined in by a duo of women in fetching dresses, who stood guarding the elevator with a man in white gloves and coat-tails, "I see no circumstances under which I would tear up that pledge." 
His loyalty duly professed, Trump went on to knock other Republicans—who, he'd like to remind you, are already beneath him in the polls. Trump mocked rivals like Lindsey Graham and Rick Perry for sinking in the field after they attacked him, slugged Jeb Bush with the usual cry of "low energy," and announced that it was time for Rand Paul to get off the debate roster. (He had nothing negative to say, on Thursday, about Carly Fiorina, whom he says he welcomes onto the debate stage.) 
On Wednesday, the RNC had asked all 17 Republican presidential candidates to sign the loyalty promise—but the request seemed aimed most directly at Trump, the maverick figure who had kept open the possibility of defecting. Here was Trump, proclaiming that Priebus had come to his office—"I told him I don't know it's appropriate, Reince, for you to be here," he blared—and that the party had assured him they would treat him fairly. In turn, Trump, the loose cannon of the race, the wild card making everyone but himself nervous, cast his signature.
Trump held up the pledge; all most people could see was the strength of the black permanent marker against the thin serifed text: 
Source: Donald Trump's Twitter
Trump found the "press availability" an occasion not only to make news, but to take questions, and relish in the spotlight. Asked about a federal judge's ordering a Kentucky clerk who refused to issue marriage licenses to same-sex couples jailed, he said, "I really don't know much about it." Asked about reports that he cheated at golf, he replied, "I win at golf, that I can tell you." Asked about former Vice President Dick Cheney's one-time aide Scooter Libby, he brushed away the question with a sort of abbreviated flick of the wrist. No time for that. Trump, as usual, claimed credit for the national discussion on immigration. He called Hillary Clinton "the worst secretary of state in the history of this country," then added that John Kerry may soon take her place, owing to the Iran nuclear deal. He swore "our country will be great again." He said he liked Kanye West because "he loves Trump." ("I've been a counter-puncher," he said. "I only hit people when they hit me.") 

He stood before a wooden podium and never paused, never thought for a moment what he ought to say. A master, the saying goes, in his domain, a politician who doesn't worry about spin.
The RNC had come to his doorstep (and what a doorstep! "In this building I have the largest bank in the world," Trump crowed, gesturing upward), pleading with him to commit to the party. A billionaire, he would seem to have the means, financial and psychological, to launch a third-party campaign, if he wanted. Which makes the RNC—already anxiously adjusting the new reality of the real-estate maven and former Democrat as front-runner—queasy. And so, graciously—leading already by every count of Republican voters—Trump granted the wish that he would not leave those fans in the party behind.
Some observers, including my colleague Joshua Green, believe that this oath amounts to Trump's "political death warrant." Indeed, according to ballot rules, it would be difficult for Trump to run as a third-party. But, pledge or not, on a 90-degree Thursday packing tripods on pink-veined marble, it did not seem impossible. He followed his whims. Trump closed the press conference, then, taken with another thought, invited the Speaker of the House of Indonesia to the stand, to profess how much Indonesians like him.
 To quote words commonly attributed to Walt Disney—at least on Pinterest—"If you can visualize it, if you can dream it, there's some way to do it." And Donald Trump knows how to visualize success.
Before it's here, it's on the Bloomberg Terminal.
LEARN MORE