Dead Child on Beach Adds Pressure on Cameron Over Refugees
Thomas Penny and Hannah Murphy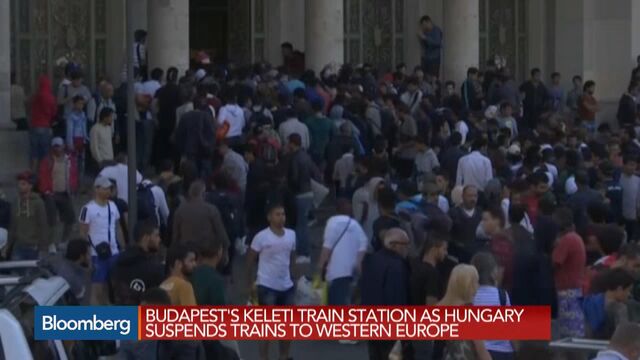 U.K. Prime Minister David Cameron faced increasing pressure Thursday to let in more refugees from Syria after British newspapers were dominated by a photograph of a dead child on a Turkish beach.
Cameron, who said that "there isn't a solution that's simply about taking people," found himself under attack from lawmakers in his own Conservative Party, religious leaders and the political opposition. Britain has resettled 216 of the estimated 4 million refugees from Syria under its "vulnerable persons" program, while more than 4,000, some of whom were already living in Britain, have been granted asylum.
"Anyone who saw those pictures overnight could not help but be moved and, as a father, I felt deeply moved by the sight of that young boy on a beach in Turkey," Cameron said in a pooled television interview. "Britain is a moral nation that always fulfills its moral obligations," he said. "We are taking thousands of Syrian refugees and we will continue to do that."
Cameron, who said during a visit to a camp for Syrian refugees in Jordan in 2012 that "we have got to do more," argued that the best solution would be to bring "peace and stability" to the region. The Sun newspaper, which backed Cameron's re-election in May, used its front page to tell Cameron that "summer is over" and called on him to act on "the biggest crisis facing Europe since World War II."
Hungarian Pictures
The majority of national newspapers highlighted the same photograph, showing the dead child being carried away from the beach by an emergency worker. British television has also carried extensive coverage of events in Hungary, where the authorities have prevented thousands of refugees from traveling to Germany.
"I will be far from the only person reduced to tears last night at the picture of a little boy washed up on a beach; that wee boy has touched our hearts," Scottish First Minister Nicola Sturgeon told Parliament in Edinburgh, imploring the prime minister to change his position. "He and thousands like him whose lives are at risk is not somebody else's responsibility; they are the responsibility of all of us."
The interim leader of the main opposition Labour Party, Harriet Harman, urged Cameron to "end the inertia and delay, and show some moral leadership" by agreeing to take more Syrian refugees and convening an urgent meeting of European Union leaders next week. She also called for a meeting of the government's Cobra emergency committee so that ministers can draw up a plan for dealing with the crisis.
'Generous-Hearted'
"We are an outward-facing, generous-hearted nation, not one that turns inward and shirks its responsibilities," Harman wrote in a letter to the prime minister.
Cameron "only wants to talk about the things he wants to do to help far away," Yvette Cooper, who's running for the Labour leadership, told Sky News television. "He won't actually do anything here at home. We have a responsibility to help."
Liberal Democrat leader Tim Farron called for an urgent parliamentary debate on the government's handling of the "humanitarian crisis which shames our country."

Vincent Nichols, head of the Roman Catholic church in England and Wales, said Britain's and Europe's response is "a disgrace" while the Anglican Archbishop of Canterbury, Justin Welby, urged the government to take in more refugees.
'Offering Shelter'
"The people of these islands have a long and wonderful history of offering shelter and refuge, going back centuries –- whether it be Huguenot Christians, Jewish refugees, Ugandan Asians, Vietnamese boat people or many, many more," he said in a statement. "It has always been controversial at the time it happened, always been seen as too difficult. Yet each time we have risen to the challenge and our country has been blessed by the result."
Chancellor of the Exchequer George Osborne told reporters that Britain has been playing a "leading role" and the focus should be on defeating Islamic State and breaking up the criminal gangs who traffic migrants, he said.
"We've got to go on taking genuine refugees, real asylum-seekers," he said. "We'll go on taking people and keep it under review."
A petition on Parliament's website demanding that Britain accept more asylum-seekers was close to double the 100,000 signatures needed for it to be considered for debate, attracting 19,000 signatures in a one-hour period around midday in London.