Czech Police to Stop Holocaust-Like Practice of Marking Refugees
By and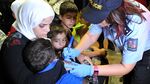 Czech police will stop writing numbers on the arms of refugees after the practice was widely criticized by human rights groups and media for being reminiscent of the Holocaust, the Interior Ministry said.
Images of uniformed police officers identifying migrants with markers at the Breclav railway station in the southeastern Czech Republic on Sept. 1 spurred a wave of criticism from humanitarian organizations around the world, including Human Rights Watch. The ministry said the police were marking the migrants, most of whom were from Syria and didn't speak English, to ensure that families aren't separated.
"The publicized images do not represent standard practices of Czech police," the ministry said in the statement posted on its website on Thursday. "The practice was used because police were under time pressure, and mainly to ensure that in such a large group children aren't separated from their parents."
Czech police have detained 2,456 migrants trying to cross the border since June 6, Foreign Police spokeswoman Katerina Rendlova said by phone Thursday.
The authorities have the situation under control as most migrants are using the Czech Republic as a transit country on their way to neighboring Germany, she said. Czech authorities said late Wednesday they won't keep migrants that already sought asylum in Hungary or other countries in detention.