Photographer: Zhang Peng/LightRocket via Getty Images
markets
Charting the Markets: China Respite
Japanese stocks and Sweden's krona rise while Mario Draghi prepares for today's European Central Bank monetary policy meeting.
By
China watchers are taking a breather with the nation's markets closed to commemorate the end of World War II. Attention now turns to today's European Central Bank monetary policy meeting in Frankfurt and Friday's U.S. jobs report. Global stocks, as measured by the MSCI All-Country World Index, gained for a second session after after a two-day 3.3 percent drop.

Japanese stocks rose for the first time this week as a semblance of calm returned to Asian markets as China (and Hong Kong) halted trading for a two-day holiday. The Nikkei 225 Index closed 0.5 percent higher after jumping as much as 2.1 percent. The previous three days saw a loss of 5.4 percent. Japan's benchmark has slumped 13 percent since it reached an almost 20-year high in June.

Sweden's krona rose after the country's central bank kept its key interest rate unchanged at minus 0.35 percent and maintained the size of its 135 billion kronor ($16 billion) bond-buying program. Unprecedented measures to stave off deflation appear to be working with underlying consumer prices rising 0.9 percent in July and the economy expanding at an annual rate of 3 percent in the second quarter. The krona is the best performing major developed currency in the past month, according to Bloomberg Correlation-Weighted Indices. It's jumped 3.9 percent against a basket of nine of its peers. Like Japan, Switzerland, Denmark and the Euro-Area, the krona is deemed a haven because of its current account surplus.

ECB President Mario Draghi has a lot on his plate as he prepares to face the world's press after today's monetary policy meeting. China and volatile financial markets are just a few of his problems and investors want reassurance the ECB is ready to expand its asset-purchase program if deflationary forces reappear. Draghi's preferred inflation measure - the five-year, five-year forward inflation swap rate, a gauge of price-growth expectations in the five years starting 2010 - has fallen to 1.69 percent from a high of 1.88 percent just two months ago. This highlights the difficult task he faces in getting inflation back to the ECB's two-year target of just-below 2 percent. In August consumer prices rose an annual 0.2 percent. 
Mark Barton is a presenter on Bloomberg TV. Follow him on Twitter @markbartontv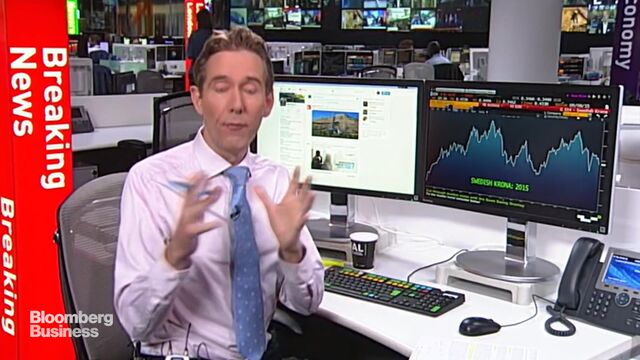 Before it's here, it's on the Bloomberg Terminal.
LEARN MORE