'Bonkers' and 140 Other Words Never to Say to Market Reporters
by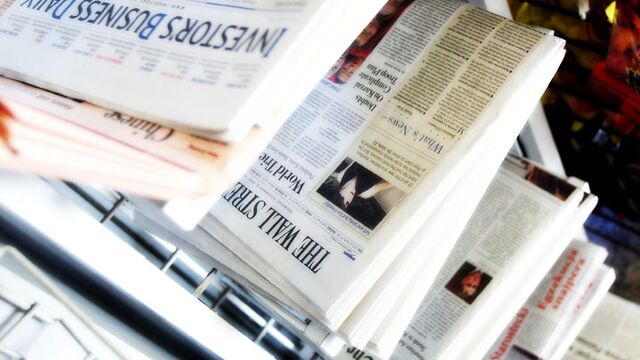 The comedian George Carlin darn near made a whole career out of a routine about seven words you're not allowed to say on television.
The seven words were ... aww, shoot, we better not repeat them here due to the young and impressionable souls out there who are confessed readers of this column. (Finish your homework, Master Shrey.) You, of course, are free to go watch the routine on YouTube, presuming you are not currently on live television. (Ask mum's permission first, Master Shrey.)
It turns out that if you're talking to the financial press, there are a bunch of other words you probably should never use, according to the work of some Swiss academics. Unless, that is, you're long volatility, then maybe you want to sprinkle these words liberally into your talking points. Hey, if that's your thing ... judge not lest you be judged, and all that jazz.
Let's let Rajna Gibson Brandon and Christopher Hemmens from the University of Geneva and the University of St. Gallen's Mathieu Trepanier explain:
"We find that market irrationality has a signicantly negative effect on subsequent stock market returns -- proxied by the S&P 500 and the Dow Jones Industrial Average -- and exacerbates stock market volatility," they write in a new research paper. "The full impact takes time to manifest with small downturns at first culminating in a significant negative impact after three days followed by a weak reversal almost a week later."
By "market irrationality" they are referring specifically to the types of words appearing in the financial press that, to use some fancy words, may prove to be parlous augers for stock prices. They list 141 words, but some of the favorites around here are "bonkers," "barbarous," "berserk," "daft," "perverse" and "psycho." (Yes, a lot of words beginning with "b," the Greek equivalent of which is "beta.")

Their work finds that excessive use of terms like these can lead to declines in equity market indexes and an increase in the VIX volatility index. They call the reaction "irrationality risk beta" and some stocks are more susceptible to it than others -- to the tune of more than 10 percent annually. The effect is concentrated at extremes -- the smallest and largest firms and those with highest and lowest book-to-market ratios. (The authors used Dow Jones Newswires for the study, which is sort of bonkers but we won't get all barbarous over it.)
Interestingly, a Google Trends graph shows a huge bubble in "bonkers" around the time our berserk and barbarous market was going all psycho in 2009, so in that case maybe it was a coincident rather than leading indicator.

Anyway, below is a complete list of words that the authors identified as creating irrationality risk beta. Fingers crossed that printing them all at once doesn't cause another "quant meltdown." (Tip o' the hat to the AllAboutAlpha blog for finding this study and to Bloomberg's Chris Nagi-- noted lover of stocks, cats and @stockcats-- for pointing it out.)
Strike these from your language:
ABERRANT
ABSURD
ABSURDITY
ACCURSED
ALARMING
ANARCHIC
ANARCHY
ANXIOUS
BAFFLE
BAFFLED
BAFFLING
BARBAROUS
BELLIGERENT
BERSERK
BIZARRE
BONKERS
BRAINLESS
BUBBLE
BUBBLES
BURST
CALAMITY
CAPRICIOUS
CHAOS
CHAOTIC
CHILDISH
COMMOTION
CONFOUND
CONFOUNDED
CONFOUNDING
CONFUSE
CONFUSED
CONFUSION
CONTRADICTORY
CRASH
CRASHED
CRASHES
CRASHING
CRAZE
CRAZED
CRAZINESS
CRAZY
DAFT
DELIRIOUS
DELIRIUM
DELUSION
DELUSIONAL
DEMENTED
DEMENTIA
DEPRAVED
DERANGED
DESPAIR
DESPAIRED
DESPAIRING
DISORDER
DISORDERED
DISORGANISE
DISORGANISED
DISORGANIZE
DISORGANIZED
DISTRUST
DISTRUSTFUL
DISTRUSTING
DIZZY
ECCENTRIC
ECCENTRICITY
ENVIOUS
ERRATIC
FANATIC
FANATICAL
FOOLISH
FOOLISHNESS
FRANTIC
FRANTICALLY
FRAUGHT
HAVOC
HYPOCRISY
HYPOCRITE
HYPOCRITICAL
HYSTERIA
HYSTERIC
HYSTERICAL
IDIOCY
IDIOT
IDIOTIC
IGNORANCE
IGNORANT
ILLOGICAL
IMPATIENT
INCOHERENCY
INCOHERENT
INCONCEIVABLE
INCONSISTENCY
INCONSISTENT
INSANE
INSANITY
INSTABILITY
IRRATIONAL
IRRATIONALITY
IRRESPONSIBLE
JITTERY
LUDICROUS
LUNACY
LUNATIC
MAD
MADMAN
MADNESS
MANIA
MANIC
MOODY
NEEDLESS
NEUROTIC
NONSENSE
NONSENSICAL
OBSTINATE
PANIC
PANICKING
PARANOIA
PARANOID
PERPLEX
PERPLEXED
PERPLEXING
PERVERSE
PREPOSTEROUS
PSYCHO
PSYCHOTIC
REASONLESS
STUPID
STUPIDITY
SUPERSTITION
SUPERSTITIOUS
UNHINGED
UNREASONABLE
UNREASONABLY
UNRELIABILITY
UNRELIABLY
UNSETTLE
UNSETTLING
UNSOUND
UNSTABLE
UNWISE
UNUSUAL
Before it's here, it's on the Bloomberg Terminal.
LEARN MORE