business
You're Invited to a Finnish Tea Party
Unless you're gay … or Muslim … or Greek
By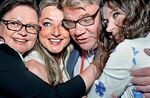 In early August, Timo Soini, the foreign minister of Finland, mounts a stage at the convention center in the town of Turku. The occasion is celebratory, marking the 20th anniversary of the formation of the Finns, the conservative party he heads, and his entrance into government for the first time following elections in April.
Soini is a big man, with the girth and mirth of a television sitcom dad and a gift for the colorful phrase. His speeches are usually easygoing affairs, loaded with crowd-pleasing mockery of Finland's participation in the bailout of Europe's weak southern economies. But on this occasion his imagery is stark. He describes his party's performance in the election as "a hard, diamondlike achievement" and likens the tough decisions he's since had to make as facing "the cosmic cold."
In the past 20 years, Soini has led the Finns from an insignificant also-ran to the country's second-largest party, now governing in coalition with two other conservative parties, including Prime Minister Juha Sipila's Centre Party. Soini has done so by being the voice of opposition. And yet, just three months after taking office, he's being forced to explain why Finland agreed to sign on to a new €86 billion ($96 billion) bailout for Greece.
When Greek Prime Minister Alexis Tsipras and his left-wing Syriza party forced a crisis in June by skipping payment on part of its country's debt, Finland was among the countries favoring the harshest response. Largely because of pressure from the Finns, Helsinki's official position going into the negotiations was that Athens should exit the currency union, at least temporarily.
When the talks instead looked likely to produce a new rescue package—Greece's third bailout in five years—Finnish media reported that the Finns were threatening to bring the government down. Soini denies that. "We decided to stay in government," he tells the assembled members of his party. "All the members of Parliament voted for the deal. But this doesn't mean we are happy with what's happening in Europe."

Allowing Greece to fail, he explains, would cost Finland from €3 billion to €4 billion (money it's already lent to Athens) and weaken Europe strategically. Sticking to his principles and bringing down the government would have opened the door for political rivals and reduced his ability to shape a rescue package that Finland couldn't block on its own. Soini characterizes his acquiescence as the inevitable result of the previous government's commitments, which—unlike his Greek counterparts—he feels honor bound to uphold. "We are not Syriza," he says. "And we won't be."
Like Syriza, however, Soini is learning that being in government means sometimes carrying out policies you oppose.
 
 
Soini founded the Finns in a typical Finnish fashion, with three other men in a sauna. He and his confederates had been members of the Finnish Rural Party, which went bankrupt and disbanded in 1995, and they believed there was space for a party representing the conservative working class.
Perussuomalaiset is the party's name in Finnish, and until 2011 its official English-language name was the True Finns. "That sounded much more right wing than we actually are," says Sampo Terho, the party's current leader in Parliament. "It sounded like there were false Finns and true Finns." Translated literally, the name means "basic Finns," but its significance is closer to "ordinary Joes."
Finland is a country of 5.4 million. Its political culture is based more on consensus than conflict, and its spectrum is narrow: Every party in Parliament is a staunch supporter of the welfare state. So its politicians differentiate themselves primarily in terms of cultural identity.
The Finns party is unabashedly populist. Its signature topics are immigration, family values, opposition to European authority, and identity issues such as eating meat, wearing fur, and driving big cars. In the European press, the Finns are often grouped with far-right parties such as the Italian Northern League or France's National Front, but the closest analogue may be the American Tea Party, with antipathy toward the European Union in place of objections to wasteful government spending. Its implicit promise is a return to a simpler time, when the economy was predictable and the culture was uniform.
Soini isn't considered by most Finns to be racist, but his party contains a vocal anti-immigrant wing, one that he seems reluctant or unable to contain. Members of the Finns include Teuvo Hakkarainen, a parliamentarian who once "joked" that Finland should exile Somali refugees and homosexuals to an archipelago in the Baltic, and Jussi Halla-aho, a member of the European Parliament who was found guilty of hate crimes in 2012 after blogging that the prophet Muhammad was a pedophile.
The roots of the Finns' success, however, are based around criticism of Brussels. In its first decade the party struggled to gain support. The turning point came in 2006, when Soini stood for president using the slogan "Where there is the EU, there is a problem." Soini lost the race, but he'd begun to change the national discourse—and to gather votes.
Before Soini's rise, Finland's approach to the EU was to lead by example, to bank political capital by being constructive and cooperative. It allied itself with other northern states and with Germany. The country's accession to the EU in 1995 was little debated. The euro was adopted without a referendum.
Economists had warned of the difficulties that joining the EU and currency union could cause, especially for the country's labor market and its uncompetitive agriculture sector. But the geopolitical argument that Finland was safest nested firmly in the West dominated the decision-making. "The thinking was, we want to be at the core of Europe," says Vesa Vihriala, managing director of ETLA, the Research Institute of the Finnish Economy. Criticism of Brussels was considered impolite.
That began to change as the Finns climbed in the polls and the European economy started to unravel. In 2009, Soini was elected to serve in the European Parliament. Later that year, Greece admitted that it had underreported its deficit and concealed its debt. By early 2010 the country had lost the confidence of the markets, forcing the rest of the euro zone to provide Greece with a €110 billion rescue package.

By the time Finland held its next parliamentary elections in April 2011, Ireland, too, had asked for assistance, Portugal was on the ropes, and Greece was headed toward a second bailout. Soini's EU-critical platform netted him 19 percent of the vote, making his party the country's third-largest. "Europe is suffering from the economic gangrene of insolvency," Soini wrote in an editorial in the Wall Street Journal shortly after the election. "Unless we amputate that which cannot be saved, we risk poisoning the whole body."
When the euro zone bailed out Greece for the second time the next year, Finland was the only country to ask for, and receive, a guarantee on its loans. Its finance minister, Jutta Urpilainen, a Social Democrat, insisted on €1 billion in collateral. "Soini changed the system," says Charly Salonius-Pasternak, a senior research fellow at the Finnish Institute of International Affairs. "In Finnish politics, for something to shift so dramatically in half a decade is nearly impossible."
 
 
The starkest divide in Europe isn't between rich countries and poor countries or debtors and creditors, but between those who believe society works best when the rules are strictly followed and those who insist the context must be considered. "In Brussels, the countries that do not want to follow the rules always put it as, 'Of course, we want to follow the rules, but smartly, humanely,' " says Terho. "And then of course, 'How can you be opposed to being smart and humane?' "
In La Bella Figura: A Field Guide to the Italian Mind, the Italian journalist Beppe Severgnini describes how his countrymen approach traffic signals, waiting for the green at a dangerous intersection, but perhaps blowing past a red if it's at a crosswalk at an hour when no pedestrians are likely to be around. "We think it's an insult to our intelligence to comply with a regulation," he writes. "We want to decide whether a particular law applies to our specific case. In that place, at that time."
In Finland, such an approach borders on the unthinkable. "You wouldn't even consider jaywalking," says Salonius-Pasternak. "If you follow the rules and get screwed over by external circumstances, of course you should be helped; that's why we have the welfare state. But if you try to go around the rules and get in trouble because you got caught, you're not going to get a lot of sympathy. This is deeply ingrained in every Finn."
In Finland, Greece is widely viewed as receiving its justified comeuppance. After all, it broke the rules. "It's morally wrong that we should work our socks off here in order to pay the debts of other countries," Soini says.

Finland prides itself on honoring its debts and facing its greatest challenges on its own. Finland, its citizens like to point out, is the only country that repaid its World War I debt to the U.S. During World War II, Finland fought off a Soviet attack and then joined Nazi Germany in an assault on Leningrad. As part of the Paris Peace Treaty, it was required to pay crippling war reparations to Moscow. By the early 1950s, this, too, had been paid in full.
Soini, who converted to Catholicism in the 1980s, attributes the Finnish attitude toward debt to the country's Lutheran heritage. "It comes from an ardent Protestant, Max Weberian idea: Ora et sabora—pray and work," he says. "Even people who aren't religious, they are culturally Lutheran. They want to keep their rooms tidy. They want to appear at 6 o'clock if that's when you're supposed to be there. It would be horrendously impolite to be 15 or 20 minutes late. When I was in the European Parliament, I'd go for dinner, and if it was due to begin at 7 o'clock, there would not be a single soul there until 7:45. Outrageous! Only the Germans would be there. And the Dutch. Maybe."
Finland is similar to Greece in one important way. As a member of the euro zone, it lacks control over its monetary policy. The country entered the global economic crisis with its finances in good shape. But its export-oriented economy took a serious hit as demand dried up in Europe and the U.S. In 2009, Finland's gross domestic product dropped 8.3 percent, and its economy has since received blow after blow: the collapse of Nokia; the drop in demand for paper, a key industry; the effect of Western sanctions and plummeting oil prices on the Russian economy.
When faced with an even deeper crisis in the 1990s, triggered by the fall of the Soviet Union, which by then had become an important trading partner, Finland was able to depreciate its currency to regain competitiveness. This time it has to take on the far more politically difficult task of an internal devaluation, lowering labor costs by cutting wages and other means.
But while voters in other countries have railed against austerity, the Finnish electorate embraced it, putting into government—along with the Finns—two conservative parties that had promised fiscal discipline. The only party to propose an increase in public spending, the Left Alliance, was roundly defeated. "The people of Finland think it's time to cut our expenses," says Olli Koski, chief economist at the Central Organization of Finnish Trade Unions. "They're afraid of too much debt."
Financial restraint, though, might be easier to accept in the abstract. The new government plans to reduce spending and raise taxes by €4 billion to €6 billion, and it asked the country's unions and employer federations to come up with a way to lower the unit cost of labor by 5 percent—most likely by extending working hours and cutting vacation days. The unions rejected this plan, and the government is working on new proposals. "I always decline to use the word austerity because it is so loaded," says Olli Rehn, the minister of economic affairs and a member of the Centre party. "We want to stabilize public finances. We have been on a path of very rapid indebtedness, and that's not sustainable for any country, especially a small country like Finland."

 
 
Like Tsipras in Greece, Soini has a new challenge: how to transform his insurgency into a responsible governing party, capable of navigating the competing pressures of its reactionary constituency and the realities of political office.
During the party congress in Turku, Soini's position as head goes unchallenged in leadership elections. But the membership expresses its displeasure by voting into the four-person chairmanship Sebastian Tynkkynen, the 26-year-old head of the party's youth wing, who jumped into the election three days earlier, campaigning on a platform of leaving the euro zone. "We should start the domino effect and be the first one," he says shortly after the election, vowing to challenge the direction the party is taking. And the loudest applause during the gathering goes not to Soini's careful defense of the Greek bailout, but to a combative speech by the Muhammad-bashing European Parliament member Halla-aho attacking the party's critics as "enemies of democracy."
At the end of the second day of the conference, Soini is tired and sweating, having sacrificed sleep to socialize. "You cannot start from the top of the hill," is how he puts it when asked how he was doing holding his party together. "You have to crawl. And the higher you get, the more slippery your route will be. That is why you must be very, very patient."
There is a growing consensus among Europe's political class that the currency union isn't sustainable in its present form. The choice is between cutting the deadweight—letting Greece go, to begin with—or somehow deepening economic integration: sharing debt burdens, instituting unionwide unemployment insurance, pooling finances. The decision to offer Greece a third bailout points to the real possibility of policy moving in that direction, especially if the euro zone were to experience another unexpected shock.
Putting those measures in place would require the EU to reopen its treaties with the unanimous consent of its members. Soini vows to block any modification of the treaties. But while Finland could try to persuade other northern countries to oppose the changes, it would be hard-pressed politically to stop them on its own, especially if Germany decided to deepen integration. As reluctant as the Finnish electorate may be to take on Greece's debt, few in the country believe that an exit from the euro zone—and the increased exposure to pressure from Russia—would have popular support.
Asked whether his countrymen's financial principles will win out over their security concerns, Soini smiles. "I'm sometimes very philosophical," he says. "I say, 'The horse has a bigger head.' He should be more worried about this than myself at this time."
I tell him I don't understand. "I know you don't," he says. "But this is the way I speak. If there is no clear yes-no answer, then my answer is a little bit cryptic."
He laughs. "My intention is not to be a great leader," he says. "I'm not a kind of Moses. Moses led the people to the Promised Land. I'm not like that. But I'm bloody enjoying rocking the boat."
(Updates the 28th paragraph to include unions' response to government's spending reduction plan.)
(Updates the 28th paragraph to include unions' response to government's spending reduction plan.)
Before it's here, it's on the Bloomberg Terminal.
LEARN MORE