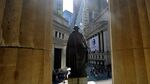 On the back of the recent sell-off in stock and bond markets, a number of measures of U.S. financial conditions and financial stress compiled by regional Federal Reserve banks are signaling the tightest readings in three years.
Data released Wednesday by the Chicago Fed showed a rise in risk premiums coupled with a deterioration in leverage and credit conditions in the week through Aug. 28, all of which propelled the bank's National Financial Conditions Index to its highest level since November 2012. 
In other words, the boost the economy is getting from easy access to finance is beginning to fade. That's a headwind for Fed officials to consider when they meet Sept. 16-17 to debate the timing of the first interest rate increase since 2006.

The index is comprised of 28 money-market indicators, 27 measures derived from stock and bond markets and 45 banking system indicators, which are further categorized into sub-components that capture changes in risk, credit conditions and leverage in both the financial and non-financial sectors. The first three of these sub-components are rising, indicating deteriorating financial conditions. The fourth shows leverage of U.S. firms and households is increasing.

The Chicago Fed index corroborates signals from other indexes produced by the St. Louis Fed, the Cleveland Fed, the Bank of Canada, Bank of America Merrill Lynch and Goldman Sachs Group Inc. -- all of which point to the tightest conditions in at least three years.

When Fed officials last submitted updated quarterly forecasts at their meeting in mid-June, 15 of the 17 members of the policy-setting Federal Open Market Committee projected it would be appropriate to begin raising rates in 2015.
The financial conditions indexes suggest there may now be less urgency at the Fed to start tightening via increases in their benchmark federal funds rate. 
Economists at Barclays Plc expect policy makers to stay on hold until March due to the recent moves, while Goldman Sachs economists say the Fed will raise rates in December, but "the risks of later liftoff have increased significantly."
Regardless of whether the central bank decides to raise rates in September, the deterioration in financial conditions will probably put downward pressure on projections for the subsequent rate tightening path that Fed officials bring with them to the meeting.
Still, the rise in the indexes isn't necessarily cause for major concern, according to Christopher Waller, director of research at the St. Louis Fed.
"The volatility in and of itself isn't necessarily stress, it's just a lot of movement in positions and trading," Waller said Wednesday in an interview on Bloomberg Radio.  "We haven't heard anything in the way of financial firms being in trouble. We haven't heard anything about people not making margin calls, stuff like this -- that's normally when you start hearing that there's some real problems in the financial markets."