The Latest Polls Shows Greek Elections Are on a Knife Edge
New Democracy takes the lead for the first time
By and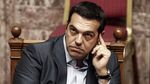 The difference between the two parties in the latest polls published in Athens shows the country's Sept. 20 election is too close to call.

Greece's main opposition New Democracy party would get 25.3 percent of the total vote if elections were held now, leading for the first time over former Prime Minister Alexis Tsipra's Syriza party, which would get 25 percent of the vote, according to voting intention poll by GPO broadcast on Mega TV.
No party would get enough votes for an outright majority in the next parliament, according to all surveys published so far, meaning that Europe's most indebted state could face thorny coalition talks after the ballot. Those could have the effect of delaying or derailing the implementation of its bailout clauses.
Syriza party would get 23 percent of the total vote if elections were held now, compared with 22.6 percent for the main opposition party, New Democracy, a voting-intentions survey by Alco published on Newsit.gr website shows.
The far-right Golden Dawn party polls at third place with 6.1 percent, while pro-bailout River and Pasok parties would get just over 4 percent each if elections were held now, according Alco. Independent Greeks, the junior coalition partner in Tsipras's last government doesn't get enough votes to elect lawmakers, the poll shows.
Popular Unity, a party founded by former Syriza lawmakers who revolted against Tsipras's decision to strike a bailout agreement with creditors would get 3.9 percent of the vote, while 14 percent of respondents in Alco's survey said they are undecided.
The company, which polled 1,000 adults between Aug. 31 and Sept. 2, said Tsipras's lead has narrowed to 0.4 points, from 1.5 points, in its previous survey, which was released on Aug. 28.
"The outcome is, at best, likely to be another patched-up coalition government that will soon struggle to deliver on governance and stability," Wolfango Piccoli, managing director at Teneo Intelligence said in a note to clients on Tuesday. "In the worst-case scenario, an inconclusive outcome could force the country to undergo another election before year-end."
Editor's note: This story has been updated to reflect results of GPO poll
For more, read this next: