New Jersey Businesses Bearish on Jobs Rebound in Chamber Survey
Terrence Dopp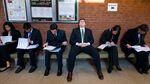 A majority of New Jersey business leaders are concerned about the state's economy, listing taxes as their top worry, according to a poll by the state Chamber of Commerce.
Fifty-three percent of 413 respondents described the current business climate as worse or stagnant from a year ago, according to a survey scheduled to be released Wednesday. A similar percentage said they expect the state's economy to deteriorate or change little over the next year.
Tom Bracken, president of the chamber affiliate, said he places as much importance on another number in the survey: the 82 percent who said they have no plans to leave the state. He said when the 39 percent who saw the economy as stagnant are added to the 47 percent who expect improvement, the findings paint a rosier picture.
"That's a very strong message coming out of here -- we're stuck in neutral and we need help, but we don't want to leave," Bracken said in a telephone interview.
New Jersey's struggle to recover all the jobs it lost during the recession that ended in 2009, unlike its neighbors New York and Pennsylvania and the nation as a whole, has dogged Governor Chris Christie on the campaign trail as he tries to secure the Republican nomination for president in 2016.
At the first debate on Aug. 16, questioners brought up a record nine credit-rating downgrades on his watch, prompting him to say he was "darn proud" of 192,000 private-sector jobs created since he took office in 2010. That number has since dropped to 174,900 after two straight months of declines.
Christie has cut business taxes and awarded companies tax incentives as part of his economic-development efforts. He also has vetoed efforts by the Democratic-controlled legislature to raise levies on wealthy residents and opposed lawmakers' move to raise the minimum wage.
The chamber had 413 respondents to its survey, ranging from chief executive officers of Fortune 500 companies to small business owners. The group is scheduled to release the findings at a news conference in Trenton, followed by an economic summit later this month in Atlantic City with legislative leaders.
Bracken said respondents cited real estate, corporate and personal income levies as problems and said he doesn't expect any of the issues to be solved with a quick fix. New Jersey has the highest property taxes in the nation, with the average bill topping $8,000 for the first time in 2014, according to the state Department of Community Affairs.