pursuits
Laurene Jobs Bets Former Agent Can Make Hollywood More Diverse
By
Ex-WME Partner Charles King raises funds for TV, films, Web

Proceeds will back projects at his new media company Macro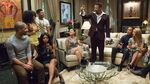 Emerson Collective, a socially conscious fund started by billionaire Laurene Powell Jobs, led an investment of at least $10 million in Macro, a media company that aims to produce film, television and web series for multicultural audiences.
The investment, described as eight figures, marks the first round of funding for Macro, according to a statement Wednesday. Macro is led by former talent agent Charles King, who left one of Hollywood's most powerful agencies to produce content for segments of the population he considers under-served, an approach reinforced by the success of his client Tyler Perry.
Jobs and the other investors are betting King can prosper by serving an increasingly diverse domestic populace that's watching TV in many new ways. The success of TV programs like "Empire" and critical praise for "Jane the Virgin" and "Fresh Off the Boat" have renewed interest in casting a wider array of actors and actresses.
"Charles is uniquely poised to lead what's sure to become the kind of media company that will launch careers and brands, but more importantly add rich value to our entertainment culture," Jobs, the widow of Apple Inc. co-founder Steve Jobs, said in the statement.

Jobs, whose wealth is estimated at $17.8 billion, according to data compiled by Bloomberg, founded the Emerson Collective to fund education initiatives and has since expanded to work in immigration and entrepreneurship. The group's website and social media pages feature links to inspirational stories and writings on the potential use of technology to improve society.
Hollywood Diversity
Many in Hollywood continue to bemoan the lack of opportunities for non-white filmmakers, writers and actors. A recent study by the University of Southern California found that 5.8 percent of the directors of the 700 top films between 2007 and 2014 were black. An even smaller percentage were Asian.
King joined the predecessor to the talent agency William Morris Endeavor Entertainment LLC and became the first African-American at the company to rise to partner from the mailroom, according to a website bio. He left the firm and started Macro in January.
Macro has set up projects with a pair of talented filmmakers. Craig Brewer directed "Hustle & Flow," featuring a cast led by Terrence Howard, and Ryan Coogler wrote and directed the critically praised "Fruitvale Station." The company also raised money from Raymond J. McGuire, global head of corporate and investment banking at Citigroup Inc., and the digital media advisory firm MediaLink, according to the statement. McGuire is on Macro's advisory board, along with Ted Sarandos, chief content officer at Netflix Inc.
"These individuals ascribe to the global vision of Macro and understand what a tremendous opportunity awaits us," King said in the statement. "Their endorsement enables Macro to create universally themed premium content for the African American, Latino and multicultural market, which has been vastly under-served for too long."
Before it's here, it's on the Bloomberg Terminal.
LEARN MORE