Traders Seek Draghi's Reassurance on Supporting Euro Bond Market
By and
Germany's 10-year bond yield slips from six-week high

ECB president due to speak after meeting in Frankfurt Thursday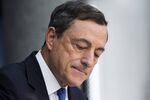 Bond traders are looking to Mario Draghi for signs the European Central Bank will act to counter deflationary pressures from falling commodity prices and rising yields.
Investors in German 10-year government bonds, Europe's benchmark securities, saw yields touch a six-week high on Tuesday as the debt whipsawed with oil prices. This presents a danger for the ECB because its objective of stronger inflation and economic growth requires lower borrowing costs to encourage consumers and companies to spend.
European yields dropped to record lows earlier this year after the ECB said it would buy 60 billion euros ($68 billion) of securities a month until at least September 2016 to boost the euro-zone economy and counter the threat of deflation. Strategists say they're looking for ECB President Draghi to reiterate a willingness to expand the program when he speaks at a news conference following Thursday's policy meeting. Portuguese bonds gained, pushing 10-year yields down from a three-week high, as the nation sold seven-year debt via banks.
"Given the developments in the markets over the summer, it would be very odd for them not to display more concern than at their last meeting," said Giles Gale, a strategist in London at Royal Bank of Scotland Group Plc. "The market will be disappointed if there's no escalation of rhetoric."
Price Pressures
Germany's 10-year bund yield fell two basis points, or 0.02 percentage point, to 0.78 percent as of 4:56 p.m. London time, after touching 0.82 percent Tuesday, the highest since July 17. The 1 percent security due in August 2025 gained 0.170 or 1.70 euros per 1,000-euro face amount, to 102.11. The yield was as low as 0.51 percent last week.
RBS has a target of 0.4 percent for the bund yield, Gale said.
The average yield on euro-area debt climbed to 0.93 percent on Tuesday, more than double the 0.43 percent posted after the ECB began quantitative easing in March, according to Bank of America Merrill Lynch indexes. Portugal's 10-year yield dropped three basis points to 2.71 percent, after earlier rising to 2.76 percent, the most since Aug. 10.
The five-year, five-year forward inflation swap rate, a gauge of price-growth expectations in the five years starting 2020, has fallen to 1.71 percent, from a 2015 high of 1.88 percent just two months ago. Inflation erodes the fixed-income payments on bonds.
Draghi has a successful history of verbally influencing government-bond markets. Spanish 10-year yields have tumbled from a euro-era record of 7.75 percent since he pledged to do whatever it takes to save the single currency in July 2012, and were at 2.13 percent Wednesday.
"Talk is cheap, so one would expect the ECB to provide some jawboning," said Richard McGuire, head of European rates strategy at Rabobank International in London. "In so far as speculation of policy action has been supporting peripheral debt, then you might see spreads widen to some degree," he said, though "the move will be limited."