Dear Your Holiness, Here Are a Few Suggestions for Your Speech Before Congress
Lawmakers take advantage of the pope's upcoming visit to push their own agendas.
By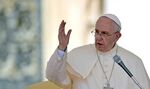 Under Catholic dogma, the pope is infallible. But that's not stopping some U.S. lawmakers from suggesting a few talking points to Pope Francis for his historic Sept. 24 address to a joint meeting of Congress.