China Tightens Index Futures Trading as Stocks Dip Before Parade
Bloomberg News
Opening more than 10 contracts will be defined as ``abnormal''

Fees raised for settling contracts opened on same day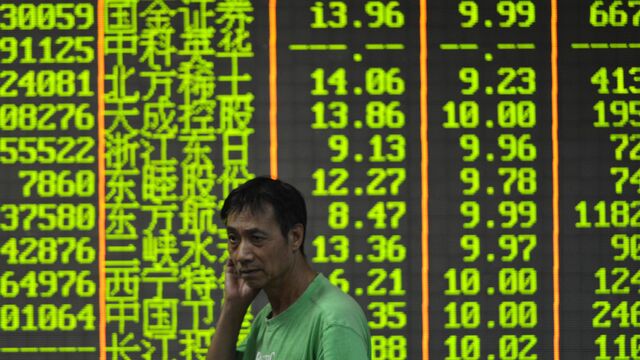 China moved to limit trading of stock-index futures by lowering the bar for "abnormal trading" and increasing margin requirements and settlement fees, as the country's stock market failed to rally on the last trading day before a major military parade.
Opening more than 10 contracts on a single index-futures product on the CSI 300, SSE 50 and CSI 500 indexes will be defined as "abnormal trading" starting Sept. 7, the China Financial Futures Exchange said on its official Weibo account after the market closed Wednesday. The amended restriction won't apply to futures used for hedging purposes, it added, without saying how it will determine which trades are for hedging. The standard already had been lowered to 100 contracts from 600 on Monday.
The restrictions are the latest effort by China's government to crack down on suspected market manipulation after a recent equities rout wiped out trillions of dollars in stock market value. The Shanghai Composite Index fell as much as 4.7 percent Wednesday before paring losses to close down 0.2 percent, amid speculation that state funds intervened to stabilize the market.
China's markets will be closed Thursday and Friday to commemorate the end of World War II. The effort to support stocks is part of a broader push to ensure that nothing detracts from the memorial parade, which the government is using to demonstrate China's growing military and political might.
The measures announced Wednesday are for "maximizing the restriction on speculation," the bourse explained in the statement. "The speculative atmosphere in the market is still heavy" even after previous measures helped reduce trading in stock-index futures.
Fees for settling positions that were opened on the same day will be raised to 0.23 percent from 0.0115 percent, the exchange said. Margin requirements on stock-index futures contracts will be raised to 40 percent from 30 percent, and margin requirements for those with hedging demand will rise to 20 percent from 10 percent, it said.
— With assistance by Alfred Cang
Before it's here, it's on the Bloomberg Terminal.
LEARN MORE