China's Stocks Erase Heavy Loss Before WWII Holidays
Bloomberg News
ICBC Rises Most Since 2008 as Bank Share Rally Props Up Market

China Valuations are Expensive Especially Dual-Listed Shares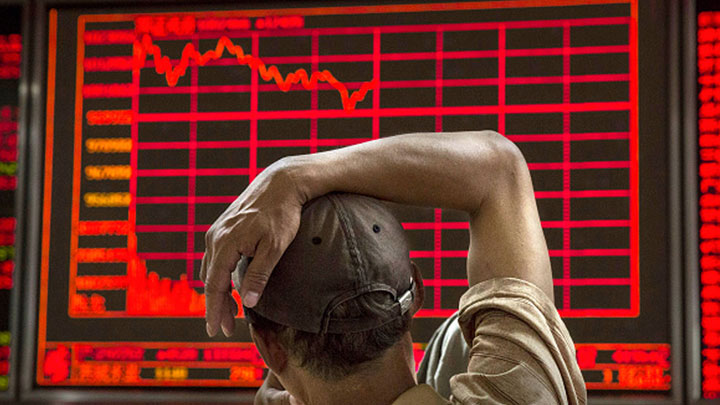 China's stocks pared losses on the last trading day of the week on speculation state funds intervened to stabilize the market before a major military parade on Thursday.

The Shanghai Composite Index slipped 0.2 percent to 3,160.17 at the close, trimming a drop of as much as 4.7 percent. Seven stocks fell for every two that gained as a rally for technology shares fizzled. Industrial & Commercial Bank of China Ltd., the nation's largest lender, jumped 10 percent for the steepest advance since 2008. Large-company shares rebounded in late trade for at least a sixth day from session lows amid possible purchases by government-backed funds.
The benchmark stock measure extended its biggest two-month loss since 2008 after traders reduced holdings of shares purchased with borrowed money for an 11th day and an official factory gauge fell to the lowest reading in three years.
"Shares are still overvalued," said Daniel So, a strategist at CMB International Securities in Hong Kong. "Downside risks are larger than upside potential."
The CSI 300 Index added 0.1 percent, erasing a decline of as much as 4.4 percent as financial and utility shares gained. Hong Kong's Hang Seng China Enterprises Index retreated 1.6 percent to the lowest close since March 2014, while the Hang Seng Index slipped 1.2 percent.
Parade Significance
China's markets will be closed Thursday and Friday to commemorate the end of World War II. The effort to support stocks is part of a broader push to ensure nothing detracts from the parade, which is the government will use to demonstrate its rising military and political might. What happens in the market has a growing influence on public perceptions of the government's economic management. With more than 90 million individuals holding equity accounts, equity investors are now a bigger constituency than the Communist Party.
"The government may be involved in the buying before the parade," said Wu Kan, a Shanghai-based fund manager at JK Life Insurance Co. "It seems that bargain hunters are back to the market after significant declines these days."
The Shanghai Composite lost a combined 25 percent in July and August on concern the deepening slowdown will hurt earnings. Official data on Tuesday showed manufacturing contracted last month, while a report from the State Information Center and China Development Bank said exports may rise 2 percent this year as imports slump 10 percent. The nation's biggest banks reported virtually zero profit growth in the first half of this year as bad debts increased.
Stock Valuations
Shares on mainland exchanges are still more than twice as expensive as their identical counterparts in Hong Kong. Dual-listed companies traded at an average 115 percent premium in China at the end of last month, within three percentage points of a four-year high in July, according to monthly data compiled by Bloomberg. The price differences have persisted even as a $4.9 trillion selloff dragged the Shanghai Composite down 39 percent from this year's high.
Gauges of financial and utility shares in the CSI 300 rose at least 0.7 percent for the best performances among 10 industry groups. China Construction Bank Corp., the nation's second-biggest lender, climbed 5.3 percent, while Bank of China Ltd. added 4.7 percent. Huaneng Power International Inc., the largest power producer, surged 8.9 percent.
Margin Trading
A measure of technology stocks slid 0.9 percent, reversing a gain of as much as 2.3 percent earlier. Leshi Internet Information & Technology Corp.tumbled by the 10 percent daily limit. Hundsun Technologies Inc., which has a financial investment platform known as HOMS that allows trust firms and online lenders to provide leveraged trading facilities to clients, dropped 3.1 percent.
The China Securities Regulatory Commission asked most brokerages to clear up non-compliant margin lending accounts by the end of September, Caixin reported, citing a circular from the regulator issued on Monday.
Traders reduced holdings of shares purchased with borrowed money for an 11th day on Tuesday, with the outstanding margin lending balance in Shanghai sliding to 642.8 billion yuan ($101 billion), the lowest level since Dec. 16.
China-focused hedge funds probably had their worst month in almost 16 years in August, with firms including Orchid Asia Group Management and APS Asset Management Pte. suffering losses from the nation's stock market collapse.
Greater China hedge funds plunged an estimated 10 percent in August, putting them on track for their biggest decline since at least January 2000, according to preliminary estimates from Eurekahedge Pte.