Political Turmoil Makes Life Tough for Brazil's Central Bank
by , , and
Two central bankers voted for 14.75% and six for 14.25%

'They're moving closer to a rate hike' -- John Welch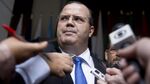 Brazil's central bank kept interest rates unchanged while signaling that monetary tightening may return amid faster inflation.

The bank held the key rate at a nine-year high of 14.25 percent for the third straight meeting Wednesday, as forecast by all but one of the 50 economists surveyed by Bloomberg. The eight-member board had two dissenters who voted to raise borrowing costs to 14.75 percent in the first divided decision since October 2014. Policy makers removed language from their statement used in the past three communiques about keeping rates unchanged for a prolonged period.
"The split vote clearly shows they're moving closer to a rate hike," said John Welch, a macro strategist at Canadian Imperial Bank of Commerce and the only analyst surveyed by Bloomberg to forecast an increase. "They have no choice in the face of accelerating inflation."
With analysts now predicting cost-of-living increases will exceed the ceiling of the target range this year and next, policy makers are showing a willingness to boost borrowing costs even as the economy heads deeper into recession. The decision comes as Wednesday's arrests of high-profile public figures rekindled concern about President Dilma Rousseff's ability to secure approval of spending cuts that could tame prices.
The real weakened and swap rates jumped Wednesday after police in the morning arrested billionaire banker Andre Esteves and the leader of the ruling coalition in the Senate, Delcidio Amaral, in the corruption probe that has shaken Latin America's biggest economy. Police on Tuesday arrested Jose Carlos Bumlai, a businessman close to former President Luiz Inacio Lula da Silva, for allegedly brokering fraudulent government contracts.
Swap rates on the contract maturing in January 2017 rose 26 basis points to 15.53 percent at 9:07 a.m. Sao Paulo time as traders boosted wages the central bank will hike early next year. The real appreciated 0.2 percent to 3.7376 per U.S. dollar.
Political Setback
The developments were a setback for Rousseff, who in recent weeks secured key victories in Congress such as votes to contain spending and boost fiscal revenue. Her wins helped the real pare some of its annual losses, the biggest among emerging markets this year.
"The economic agenda is back on the sidelines," Andre Cesar, a Brasilia-based political analyst, said Wednesday. "It's a big reverse for the government, just when it was beginning to catch a break."
The weaker real coupled with the widening budget gap have helped to exacerbate a deterioration in consumer price expectations. The bond market's inflation outlook over two years has surged 2 percentage points since August to 9.19 percent. Consumer prices rose 10.28 percent in the 12 months through mid-November.
"The central bank is very worried that inflation isn't converging to target," said Andre Perfeito, chief economist at Brazilian brokerage Gradual Cctvm. "It's laying the groundwork for hiking, possibly in January."
Before it's here, it's on the Bloomberg Terminal.
LEARN MORE