A Fishy Story About Barack Obama
No respect for presidential footwear on trip to Alaska.
By and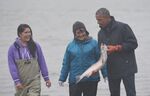 People get excited when they see the U.S. president. Some snap pictures, others flash excited grins, and a select few even faint. In Alaska on Wednesday, President Barack Obama got an aroused response from a salmon he was holding: it spawned on his shoes.