A Fishy Story About Barack Obama
No respect for presidential footwear on trip to Alaska.
By and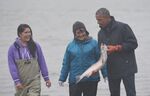 People get excited when they see the U.S. president. Some snap pictures, others flash excited grins, and a select few even faint. In Alaska on Wednesday, President Barack Obama got an aroused response from a salmon he was holding: it spawned on his shoes.
"That's a nice looking fish," Obama said as he stood on the beach of Bristol Bay on the third and final day of his trip to the 49th state. "You see that? Something got on my shoes. He was spawning a bit."

To be clear, neither the gender of the salmon nor the precise nature of the excretion could be confirmed.
Ostensibly in Alaska to point out the dangers of climate change, the president has also had a bit of fun. He's communed with sunbathing sea lions during an Arctic boat tour, trekked through the wilderness with survivalist Bear Grylls and bought ice cream for the traveling press corps, while taking over the White House Instagram account and writing touristy captions next to his pictures.
Obama broke out a selfie stick while exploring glaciers at Kenai Fjords National Park on Tuesday.
It was raining and muddy at Bristol Bay on Wednesday, but Obama didn't seem bothered by the weather or the salmon's assault on his presidential footwear.
"He was happy to see me," Obama said as he stood next to two local fishers, Mae Syvrud and Alannah Hurley, who planned to cook lunch.
Later on Instagram, Obama gave future tourists some advice: "Don't miss the salmon jerky if you come visit."