Xi Rebukes Powerful China Youth League for Being Out of Touch
Bloomberg News
Communist Party group a proving ground for future leaders

Called `aristocratic' as China grapples with economic slowdown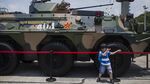 President Xi Jinping has sent a warning to up and comers in China's Communist Party, telling leaders of the powerful youth league to be less "aristocratic" and more in touch at a time of slowing growth and stock market gyrations.
Xi took the unusual step of urging reform of the league and trade unions at a July central leadership meeting of mass organizations, the first such gathering of its kind. Addressing their leaders, he instructed them to be "gazing down to the public, working for the grassroots," according to local government websites.
For Xi, preserving control through the party is paramount as he seeks to transform China's economic reliance on low-end manufacturing industries and debt-fueled infrastructure investment without setting off widespread social unrest. To do that he needs cadres with the chops to manage crises such as the recent deadly chemical blasts in Tianjin that set off local protests and a storm of criticism on social media.
The comments have been interpreted by some officials as a direct rebuke of a league that has groomed some of China's most senior officials, said people briefed on the discussions. The league is the power base of former President Hu Jintao, who was its first general secretary, and has produced such luminaries as current Premier Li Keqiang, Guangdong party chief Hu Chunhua -- known as "Little Hu" -- and Supreme People's Court President Zhou Qiang.
"It's the harshest criticism that has so far come from the top leadership on the youth league, not only because it could affect the current leaders with similar backgrounds, but it will also affect future generations," said Zhang Ming, a political science professor at Renmin University in Beijing.
Political Factions
The comments also shed light on potential factional tensions ahead of the 19th party congress in 2017, when five of seven members on the Politburo's supreme Standing Committee -- all except Xi and Li -- are scheduled to retire, having reached or passed the age of 68. China's top team serves a maximum of 10 years, with a reshuffle at the halfway mark that signals the next party head and sees new members of decision-making bodies picked.
"Many of the officials from the youth league are incapable of helping Xi push forward the reform agenda," Zhang said. "Those officials keep their jobs and earn promotions by cautiously not making mistakes, but not making changes or serving the public interests. Xi doesn't like that."
As of the end of 2014, the party had recruited nearly 90 million league members, according to figures from its personnel department. Members pay an annual fee and must be less than 28 years old, though there is no age limit for league officials.
Proving Ground
Former and current youth league leaders are known as the Tuanpai in Chinese, and the group is a channel for promotion to senior party positions, often focused on propaganda and legal affairs. Xi, whose father was a prominent revolutionary and is a member of the "Princeling" faction -- descendants of former top officials -- is potentially looking to change that.
The president has spoken often of the years he spent in some of China's poorest rural areas during the Cultural Revolution, where he built his career from the village level upward. He's extolled officials to tone down excesses like lavish banquets and gifts, and embarked on a sweeping anti-graft campaign that has taken down some of the country's most senior officials.
"League officials are those who have excelled in leadership and political skills, rather than being outstanding in fields like finance, engineering, and other specialties," said Andrew Nathan, a professor of political science at Columbia University.
Chief Reassigned
There are signs some youth league officials are falling out of favor. Zhejiang league chief Zhou Yan was recently appointed deputy director of the provincial Geological Survey Bureau -- one bureaucratic rung below her current role.
"If the promotion procedure gets more strict, it'll not only put a dampener on the members but also undermine the league as a political base," said Ding Xueliang, a professor of political science at the Hong Kong University of Science and Technology.
Even so, June Teufel Dreyer, a professor of political science at the University of Miami, said half the members of the current Politburo have ties to the league. Of the two youngest members of the Politburo unveiled in 2012, Hu Chunhua is a league alumnus while Chongqing party chief Sun Zhengcai is not.
"Presumably the new Politburo Standing Committee members will be selected from among the current Politburo members," she said. "So I wouldn't count out the Communist Youth League yet."
— With assistance by Keith Zhai
Before it's here, it's on the Bloomberg Terminal.
LEARN MORE