What Hillary Clinton Needs to Do to Win Labor
While not criticizing the Democratic front-runner, a labor leader offers warm words for party rivals.
By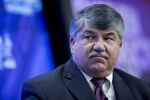 Democratic presidential candidate Hillary Clinton still has room for improvement on labor issues, according to AFL-CIO President Richard Trumka.
While Clinton is an experienced candidate, she "has to really figure out a way to energize workers" by showcasing pro-labor policies that she's willing to fight for, Trumka told reporters at a Christian Science Monitor breakfast this morning. He also warned that without a clear message, "she could catch fire" from pro-labor groups.
Trumka cited Clinton's ambiguity on the proposed Trans-Pacific Partnership trade deal as an example of an issue that "lessens the energy that workers derive from her." The AFL-CIO strongly opposes the deal, which is still in negotiations. 
He avoided any direct criticism of the Democratic Party's front-runner—even knocking pundits who he said apply a different standard to Clinton's accomplishments because she's a woman. "Hillary Clinton has to do A-plus work to get a C," Trumka said. But he noted that Vermont Senator Bernie Sanders, who has been closing in on Clinton in recent polls, is "connecting" with people and "has a very unique and genuine way" of discussing pressing issues. And the labor leader also offered warm words of praise for another potential Clinton challenger, Vice President Joe Biden.
Expected to announce by early October whether he will run for president, Biden is "a great champion of working people," said Trumka. The AFL-CIO president met with Biden last week but offered no hint as to which way the vice president, who served 36 years as a senator from Delaware, was leaning. "The next phase of his illustrious career in public service is a decision for him and for his family," Trumka said.
Both Biden and Clinton will be courting unions over the Labor Day weekend. In Newton, Iowa, Clinton plans to participate in a town hall with members of American Federation of State, County and Municipal Employees, the largest union of public employees in the U.S. Biden is spending Labor Day in Pittsburgh, a longtime hub for more traditional blue-collar labor unions because of the steel industry. Biden, who was born and spent the early years of his childhood in Scranton, Pennsylvania, counts the state as a second home base.
Clinton has accrued some concrete support from unions so far. Two prominent labor groups, the International Association of Machinists and Aerospace Workers union and the American Federation of Teachers, both endorsed Clinton this summer.
The AFL-CIO hasn't typically endorsed a candidate early in primary season. Trumka said it's conceivable that the labor group could throw its support behind a Democrat before Feburary's Iowa caucuses, the first contest of the 2016 presidential campaign. But he said it's unlikely.
"The field is still wide open," Trumka said.
Trumka didn't mince words when speaking of the Republican field. He said Ohio Governor John Kasich "got a free ride with Wall Street" and "hurt workers" with policies that slashed Ohio's budget. And he called Donald Trump's campaign rhetoric "dangerous." 
"When the leading candidates for one of the parties talks in an un-American, racist, way, it starts to become mainstream," he said. "Racism can never become mainstream."