This Hillary Clinton Scandal Costs Exactly $30
At issue: The cost of two pizzas at Clinton's campaign headquarters.
By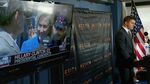 When you jaywalk, sometimes you get caught. Most of the time you don't.
James O'Keefe, the conservative media activist best known for his sting on community organizing group ACORN, wants the world to know he caught Hillary Clinton jaywalking—at least, metaphorically.
Here's what he seems to have on tape: At a major June event for the Democratic presidential candidate, a Clinton staffer identified as director of marketing Molly Barker sold a T-shirt to an undercover investigator who says she's buying it on behalf of another woman, who, importantly, had said she was a foreigner. Canadian, specifically. Earlier in the video, another Clinton staffer said to be a compliance director Erin Tibe explained to Barker that the campaign can only take donations from American citizens.
"Canadians can't buy them, but Americans can buy it for them?" the investigator asks.
Barker responds: "Not technically. You would just be making the donation."
"Not technically really means 'not legally,'" the voiceover then intones.
The shirt cost $30.
That's about it. The group's counsel, Benjamin Barr, said at a Tuesday news conference at The National Press Club in Washington that the whole transaction was "akin to campaign finance jaywalking."
The Washington Post announced in a headline (later changed) that PVA caught the "Clinton campaign being kind to a Canadian," and Post reporter David Weigel noted the campaign actually went ahead and released the video itself and now "is gleefully brushing this one off." One reporter at the event, the Daily Beast's Olivia Nuzzi, asked twice if it was a prank to call a news conference in order to show video of such a minor offense.
"It's not about the dollar amount," O'Keefe replied. "It's about the willingness to break the law."
O'Keefe said he didn't know who the alleged Canadian was and insisted her presence besides the PVA's undercover investigator and her willingness to goad Barker was happenstance.
"This is the senior compliance manager within the campaign, the person who is responsible for making sure the campaign follows all laws," he said. "In her words, she says it is serious."
A Clinton spokesman characterized the whole exchange as a lawful gift.
"This video shows a Project Veritas operative yet again unsuccessfully trying to entrap campaigns staffers who very clearly rejected any foreign donation," the spokesman, Jesse Ferguson, said in an e-mail. "Our staffers understand and follow the law, as demonstrated even in their selectively edited video."
Still, O'Keefe promised "many, many, many videos" in coming weeks and months that would expose lapses by Clinton campaign officials. Despite being best known for his heavily edited stings on liberals, O'Keefe said he "could" also be investigating other campaigns, including Republicans'.
Barr, PVA's lawyer, also said that the group could face its own criminal fines because the investigator, who lied about her name, facilitated the payment from the unidentified woman.
O'Keefe, meanwhile, is just asking the Clinton campaign, which raised nearly $47 million last quarter, to reimburse the $30.