The $2 Trillion Emerging-Stock Drop Fixing All Eyes on China
By and
Drop in market value was most since post-Lehman panic

MSCI Emerging Markets Index had worst month since 2012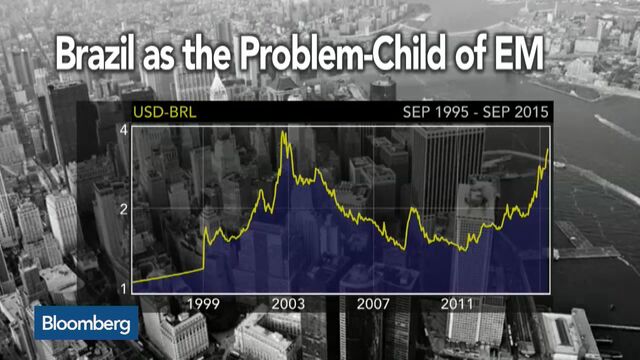 The August meltdown that wiped more value off emerging-market stocks than at any time since the collapse of Lehman Brothers Holdings Inc. has gotten investors more fixated than ever on China's economic fortunes.
As the shock Chinese yuan devaluation sent at least half of the main developing countries into bear-market territory last month, the capitalization of the 31 largest emerging equity markets slid by $2 trillion, according to data compiled by Bloomberg. The selloff continued on Tuesday as worse-than-expected manufacturing figures out of China sent the MSCI Emerging Markets Index tumbling 2.2 percent by 3:27 p.m. in London.
"People are a lot more worried than they were about the outlook for the Chinese economy right now," Mark Williams, the chief Asia economist at Capital Economics Ltd. in London, said by e-mail. "For that reason people are paying closer-than-usual attention to the incoming data."

The decline in market capitalization in August was the steepest since $2.5 trillion was wiped out in October 2008, a month before the Federal Reserve started an unprecedented stimulus program that bolstered appetite for riskier assets for years. With projections the Fed may start raising interest rates as soon as this month, emerging-market stocks and currencies are getting little relief from selling pressure.
'Sentiment Driver'
Withdrawals from exchange-traded funds that invest in developing countries totaled $6.12 billion in August, including $5.01 billion from stock funds and $1.11 billion from bond ETFs, according to data compiled by Bloomberg.
China accounted for almost 60 percent of the August plunge in market value after the yuan move exacerbated a slump in global markets amid concern the world's second-largest economy is slowing more than expected. Oil tumbled on speculation demand will decline, while investors weighed the potential timing for the Federal Reserve to raise interest rates.
"China is currently the biggest sentiment driver to overall emerging markets," Mika Kannisto, a money manager at FIM Asset Management Ltd. in Helsinki, which oversees 2 billion euros ($2.2 billion), said by e-mail. "To see where we go from here, we will have to wait and see how the Chinese macro develops toward the end of the year." 
The value of emerging-market equities dropped to $14 trillion on Aug. 31, compared with the U.S. market size of $23.1 trillion.