Five Telling Nuggets from Hillary Clinton's New Batch of E-Mail
"Parks and Rec," gefilte fish and delete this e-mail.
By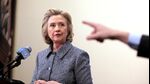 The State Department on Monday night released a new batch of e-mails from Democratic presidential candidate Hillary Clinton's tenure as secretary of state. The dump provides some insight into Clinton's television tastes, but also reveals some information about her attitude toward e-mail. There's also at least one discussion of sensitive information, which Clinton asks be deleted and not forwarded, and there's a moment of confusion with the State Department help desk over her private address.