Strong August Sales Spur GM to Boost 2015 U.S. Industry Outlook
David Welch and Mark Clothier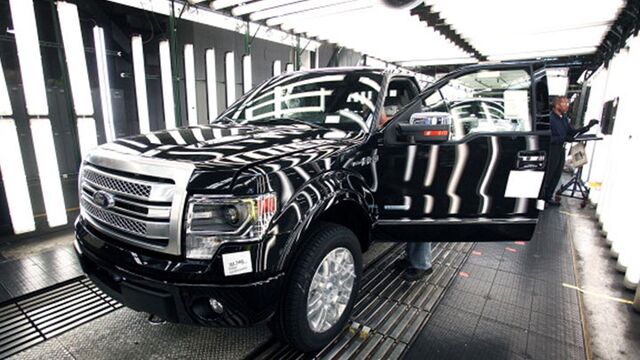 Detroit's three carmakers all reported surprisingly robust August sales, powered by pickups and sport utility vehicles, suggesting U.S. consumers are undeterred by the marked decline in global stock markets.
Ford Motor Co. and Fiat Chrysler Automobiles NV reported unexpected sales increases, while General Motors Co. posted a small drop, after cutting back low-margin sales to rental fleets, and boosted its full-year outlook for the market by 300,000 vehicles. Declines for Nissan Motor Co. and Toyota Motor Corp. were narrower than analysts' estimates.
America's love affair with new trucks shows that the economy is still a standout as Europe's recovery ambles along and China is slowing. Not even a 6.6 percent drop in the Dow Jones Industrial Average last month could scare off consumers lured by available credit, affordable fuel and the latest technology, especially in luxury cars. Auto stocks fell much less Tuesday than those of other sectors.
"The market is down but consumers don't seem to care, they seemed to shrug it off," said Jeff Schuster, senior vice president of forecasting for research firm LMC Automotive in Troy, Michigan. "If the market stabilizes we should have a really robust September."
GM's 0.7 percent decline beat analysts' estimates, leading the company to say that industry sales this year may reach 17.3 million, up from an original forecast of as many as 17 million cars and light trucks.
Ford's light-vehicle deliveries increased 5.6 percent and Fiat Chrysler's rose 1.7 percent. The average of analysts' estimates compiled by Bloomberg was for a 0.2 percent drop for Ford and a 1.2 percent decline for Fiat Chrysler.
'Strong Footing'
"The U.S. economy remains on a strong footing despite recent turmoil in the global financial markets," Yong Yang, Ford's senior U.S. economist, said on a conference call. "Consumers continue to benefit from low fuel prices, no inflation and low interest rates."
Fiat Chrysler's North American unit sold 201,672 vehicles in the U.S. last month, topping 200,000 for the second time this year. Eight models, including four Jeeps, had their best August ever.
"In spite of a tough 2014 comparison and extreme stock market volatility, our dealers' competitive spirit kicked in and propelled us to our 65th consecutive month of year-over-year sales increases," Reid Bigland, head of sales for the Auburn Hills, Michigan-based unit formerly known as Chrysler, said in a statement.
Jeep, Ram
Chrysler exited bankruptcy in 2009 with a new leader and sales momentum that hasn't let up for more than five years. Deliveries of Ram pickups and Jeep sport utility vehicles helped sustain the streak in August, even as Labor Day weekend sales were pushed into September.
Auto stocks were mixed amid the sales reports. GM fell 2.6 percent to $28.67 at 3:26 p.m. in New York, matching the Dow average's slide. Ford dropped 0.9 percent to $13.75 and Fiat Chrysler declined 3.6 percent to $13.62. Toyota's American depositary receipts were down 3.3 percent to $114.44.
All major automakers were projected to report declines for August. The industry was projected to post a 3.3 percent monthly decrease in deliveries of cars and light trucks to about 1.53 million, the average of five estimates in a Bloomberg survey. There were 26 selling days last month, one fewer than in August 2014.
Fast Pace
Sales slipped 0.5 percent to 1.58 million for an annualized selling rate, adjusted for seasonal trends, of 17.8 million, according to researcher Autodata Corp.
Consumers typically flock to dealer lots on Labor Day weekend, the traditional end of summer, as the model year is changing over. They're drawn by new designs or discounts on outgoing vehicles. Last year, the weekend made up a fifth of August's sales, according to J.D. Power. That surge led to the most sales in any August since 2003, TrueCar Inc. said.
This is the first time since 2012 that Labor Day weekend sales will be counted for September, J.D. Power said. This year, the holiday falls on Sept. 7. Last year, it was on Sept. 1.
A messy calendar and a choppy stretch on stock markets won't alter what's been driving auto sales in 2015 to the highest levels in at least a decade, said Karl Brauer, senior analyst at Irvine, California-based Kelley Blue Book. Unemployment is down, as are interest rates and fuel prices.
"All the fundamentals that drive vehicle purchases are still relatively strong if not exceptionally strong," Brauer said. "Nothing's changed."
Toyota Decline
Toyota's 8.8 percent drop in August sales was narrower than the 10 percent decline estimated by analysts.
With consumers favoring pickups and SUVs, Toyota's car-heavy lineup struggled. Deliveries for the Toyota brand slid 15 percent for cars and 5.5 percent for its pickups and SUVs.
Nissan posted a 0.8 percent decrease, compared with the analysts' estimate of a 3.9 percent drop. Sales of its Nissan and Infiniti cars declined 6.3 percent, while the company's light-truck deliveries gained 7.9 percent, including a 29 percent jump for the Rogue crossover SUV.
Honda Motor Co. reported a 6.9 percent decline, in line with the average estimate of a 7 percent drop. Deliveries of the company's cars slid 15 percent while its light trucks such as the CR-V sport utility vehicle rose 3.9 percent.
Deliveries for GM, which reduced sales to rental-car companies 38 percent in August, had a narrower drop than the 2.6 percent projected by analysts. Sales of GM's Chevrolet Silverado pickup rose 12 percent while GMC Sierra pickup deliveries increased 7 percent.
F-Series Gains
Ford sold 71,332 F-Series pickups last month, an improvement of 4.7 percent from a year earlier and the first time the truck line, featuring an aluminum-bodied F-150, crested 70,000 in a month this year. The Dearborn, Michigan-based company is offering 72-month, no-interest loans on Ford-brand vehicles.
F-Series inventory is beginning to approach normal levels after more than a year of reduced production because of factory changeovers to make the new aluminum-bodied F-150, said Mark LaNeve, Ford's U.S. sales chief.
As F-Series inventory rises, Ford will boost incentives and sell more trucks to fleet buyers, LaNeve said. The company offered an average of $4,700 in incentives on each F-Series truck it sold, in line with the competition, said Erich Merkel, Ford's sales analyst.
Ford's car sales dropped 7 percent, led by a 37 percent drop-off in the C-Max hybrid and a 26 percent decline in the Focus compact. SUV sales rose 12 percent, led by a 79 percent gain in the big Lincoln Navigator and a 36 percent rise in Edge deliveries.
One possible deterrent for shoppers could be the turbulent stock markets. When consumers feel their savings are at risk, they often pull back on large and discretionary purchases. So far, that hasn't been the case, said analysts such as Schuster.
Historically, there is a greater link between car sales and growth in gross domestic product and consumer confidence than equity markets, Larry Dominique, president of TrueCar's ALG unit, said Tuesday in a phone interview.
"Consumers are feeling pretty good these days," he said.