Even as the recession ended more than six years ago, the ranks of American children poor enough to be eligible for free school lunches is on a surge. 
U.S. Department of Agriculture school-lunch data going back to 1969 show a steady increase in the percentage of participants relying on government subsidies for their midday meal. The pace of the increases picked up in the aftermath of the 2008 financial crash.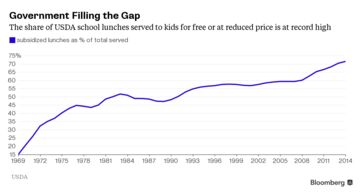 According to thresholds set in 1981, children from families with incomes at or below 130 percent of the federal poverty level are eligible for free meals, while those from families with incomes between 130 percent and 185 percent qualify for reduced-price meals and can be charged no more than 40 cents per lunch.
An elevated poverty rate, combined with stepped-up efforts to bring children into the program, has increased the number of free lunches, said Crystal FitzSimons, school programs director for the Food Research and Action Center in Washington DC, which advocates for expanded nutrition aid.
While the child poverty rate declined to to 19.9 percent in 2013 from 22 percent in 2010, it's still higher than before the crisis, Census data show. Beginning in 2008, school districts were required to automatically enroll children from families eligible for food stamps in lunch programs. In 2010, Congress passed additional legislation aimed at boosting access to subsidized meals for the poorest kids. 
"Even as the economy recovers, it isn't trickling down" to poor families who rely on the school-lunch program,  FitzSimons said. "You have increased need among low-income households."
Legislation authorizing the government's school-lunch program is due to expire Sept. 30. Agriculture Secretary Tom Vilsack is speaking in Washington this week and next, urging Congress to take up legislation supporting school meals.
Before it's here, it's on the Bloomberg Terminal.
LEARN MORE